All-new offset disc harrows from Sunflower provide industry-best highest weight per blade to help professional producers manage hard soil conditions and thick crop residue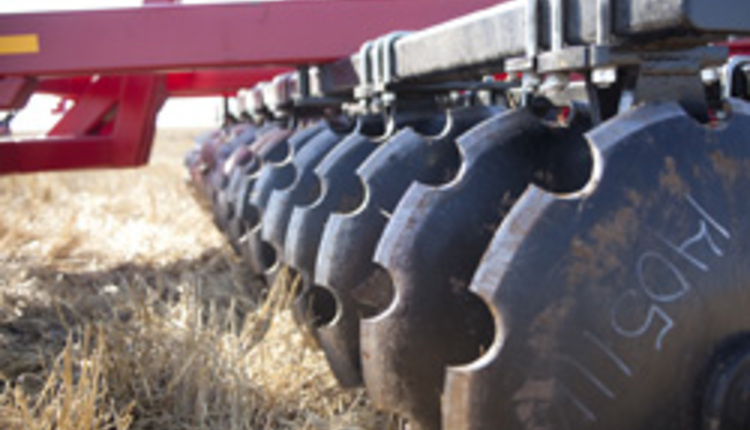 AGCO,
Your Agriculture Company (NYSE:AGCO), a worldwide manufacturer and distributor of agricultural equipment, is pleased to introduce the all-new
Sunflower®
1700 Series Offset Disc Harrows as the company furthers its commitment to provide professional producers with quality and innovative machines to meet their tillage needs. With the highest weight-per-blade specifications in the industry, the Sunflower 1700 Series Offset Disc Harrows feature large-diameter disc blades and pack the necessary weight needed to easily tear though hard soils and thick crop mats.
"With two styles to choose from within the 1700 Series, producers are certain to have no trouble finding a machine tailored to any size farming operation and varying soil conditions," explains Larry Kuster, product marketing specialist. "I am confident our customers will find this newest addition to the Sunflower seeding and tillage family of products combines innovative technology with heavy-duty durability and toughness for optimal soil penetration and crop residue management in the field."
Two styles - SF1710 rigid frame and SF1730 flexible frame - allow for numerous machine configurations with a variety of widths and weights. The model SF1710 is ideal for customers in search of heavy-duty cutting and mixing power in a somewhat smaller machine. It features cuttings widths between 11 feet and 17 feet, 11 inches and a weight-per-blade range of 299 pounds to 441 pounds. Based on the configuration selected, the 1710 models can weigh between 10,329 pounds and 15,248 pounds.
The SF1730 is best suited to producers who need to efficiently cover more acres on larger farming operations. Available in three configurations, these machines span 21 feet, 5 inches up to 24 feet, 11 inches, and deliver a weight-per-blade range of 401 pounds up to 428 pounds. The 1730 model can weigh between 20,960 pounds and 22,860 pounds, depending on the machine's configuration.
Both of the SF1710 and 1730 models can be configured with 28- or 30-inch notched disc blades spaced at 11- or 13-inch intervals, depending on the model.
To reduce the opportunity for damage from rocks and other obstructions often encountered in the field, select models of the Sunflower 1700 Series Offset Disc Harrows feature a unique spring-cushion gang design. When an object in encountered, these heavy coil springs contract, causing the entire gang assembly to pivot upward so it can pass over the obstruction. Once past, the springs expand and the gang assembly returns to its original working position.
The 1700 Series heavy-duty frame is constructed of high-strength 4-inch-by-8-inch tubular steel, designed to withstand the horizontal stress and rotational torque that comes with aggressive tillage. A cross-braced and gusseted frame provides added strength and durability for an increased product life span. The frame's heavy-duty steel-tube tongue with level lift provides adjustable drawbar height.
"Primary tillage is not a task that should be easily overlooked. Maintaining good soil structure and content can play a critical role in realizing peak yield levels for just about any crop," says Kuster. "Tilling on a regular basis each year does much more than simply incorporating crop residue back into the soil. It can reduce soil compaction and help ensure your crop's root systems have access to vital nutrients for strong and healthy plant development. At Sunflower, we're always listening to our customers to better understand the challenges they face. As their needs continue to evolve, they can count on Sunflower seeding and tillage equipment to evolve to meet those needs."
Sunflower, known as the "originator of flexible tillage tools," is the seeding and tillage division of AGCO. Sunflower is known around the world as a producer and marketer of top-quality products with exceptional customer support. Quality and service are what today's professional producers expect from their equipment and what Sunflower continues to provide.
For more information on the Sunflower 1700 Series Offset Disc Harrows, see your local Sunflower equipment dealer or visit http://www.sunflowermfg.com.
08.10.2011