Hoard's Dairyman talked with Darren Van Buuren of Agri-Plastics Group Companies at World Dairy Expo about their business and the solutions they offer for dairy farmers. Watch the video above for more information on individual and group housing options for calves.
Learn more by visiting the Agri-Plastics Group of Companies display at World Dairy Expo in the new Trade Center, booth 560-602 and 640-685, or online at www.calfhutch.com.
---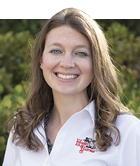 Abby Bauer
The author is the senior associate editor and covers animal health, dairy housing and equipment, and nutrient management. She grew up on a dairy farm near Plymouth, Wis., and previously served as a University of Wisconsin agricultural extension agent. She received a master's degree from North Carolina State University and a bachelor's from the University of Wisconsin-Madison.