Bri-Lin Valson Spritz found herself in a familiar position during Wednesday's International Jersey Show. The 2019 Grand Champion was once again in the center of the ring when Judge Chad Ryan and associate Kevin Doeberiener made their decision for Grand Champion.
"This cow came in class and looked awesome; and she looked even better when she came back, if that's possible," said Judge Ryan of the cow that this year topped the Six-Year-Old and Older Cow class before being named Senior Champion and then Grand. The judge from Fond du Lac, Wis., especially appreciated the sound set of feet and legs and extraordinary mammary system on the 7-year-old cow.
Spritz's victory capped off what was already an outstanding show for her owner, Vierra Dairy Farms of Hilmar, Calif., who earned the Premier Exhibitor banner. Earlier in the day, their winning senior 3-year-old, Summer Breeze Tequila Gayle, was named Intermediate Champion. She then followed her herdmate to claim Reserve Grand Champion.
Judge Ryan called the rear udder on the Reserve Senior Champion "one of the best you'll ever see." He tapped Rexlea Joel Karausel as honorable mention Grand Champion. She was the winning 4-year-old for Glamourview — Iager and Walton of Walkersville, Md.
Reserve Intermediate Champion belonged to Pacific Edge of Tillamook, Ore. The winning senior 2-year-old, Pacific Edge Premier Diva-ET, exemplified dairy strength according to Judge Ryan.
When the heifer show wrapped up Tuesday evening, he selected the winning summer yearling as his Junior Champion. SVHeaths Kid Rock Jaden is also owned and exhibited by Vierra Dairy Farms. The Reserve honor went to Arethusa Gentry Chante-ET, a Winter Yearling owned by Glamourview — Iager and Walton.
Ratliff Jerseys of Garnett, Kan., was named Premier Breeder of the overall show. In the heifer show, Four Hills of Bristol, Vt., was Premier Breeder, and Glamourview — Iager and Walton took home Premier Exhibitor. Rapid-Bay Indiana Gentry was the Premier Sire of the heifer show, and Guimo Joel-ET claimed the overall award.
Junior Show results
Grand and Reserve Grand Champions of the Junior Show went to the winning pair of senior 3-year-olds that Judges Ryan and Doeberiener selected as Intermediate Champion and Reserve. Homeridge T Annette earned the top honor for Kylie and Dawson Nickels, Travis Freson, Mandy Sell, and Scott Stanford of Watertown, Wis. Reserve was Meadowridge Triple Crown Fae exhibited by Mark, Kaitynn, and Tani Riebe and Alleah and Alexa Anderson from Cumberland, Wis.
"These cows just go together so well," Judge Ryan said. "They're tremendous, balanced, beautiful-uddered cows. We couldn't be more proud of these at the end of the day for your champions."
The Senior Champion was recognized as honorable mention for Grand Champion. She was the winning 4-year-old, Rolling Spring Premier Lucille, for Evan Jauquet of Pulaski, Wis. Reserve Senior Champion was the second place 4-year old, Stoney Point Colton Edele exhibited by Avery, Lauren, Grace, and Claire Starr of Tulare, Calif.
The top heifer of the Junior Show was the first-prize winter calf, Beslea Kingsdale VIP Delorean-ET for Kenlee Phillips of Lingleville, Texas. "She's got a great future," said Judge Ryan. Blaine Warburton of New Albany, Pa., exhibited Bolle-Acres Gentry Fashion from the spring yearling class to the Reserve Junior Champion title.
Hoard's at Expo is sponsored by Agri-Plastics Group of Companies
---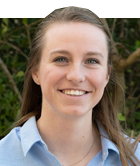 Katelyn Allen joined the Hoard's Dairyman team as the Publications Editor in August 2019 and is now an associate editor. Katelyn is a 2019 graduate of Virginia Tech, where she majored in dairy science and minored in communication. Katelyn grew up on her family's registered Holstein dairy, Glen-Toctin Farm, in Jefferson, Md.