The information below has been supplied by dairy marketers and other industry organizations. It has not been edited, verified or endorsed by Hoard's Dairyman.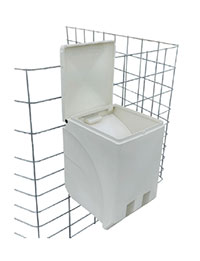 Our Large Grain Feeder has been a long-time customer favorite. After listening to customer comments, we have made it even better! The hanging attachment now allows producers to hang the feeder on the outside of a wire fence. When the feeder hangs on the outside of the fence, the calf has easy access to the feed as well as having more living space.
<!-no ad-->
This Grain Feeder's large capacity holds a large portion of feed, which will serve your calves for up to 3 days. This gravity feeder has an adjustable inner grain flap and dispenses the feed as needed, minimizing waste and keeping the feed fresh. And the lid keeps the feed dry.
To learn more about our Large Hanging Grain Feeder (AGRI-2132), or speak to one of our Calf Housing Specialists, contact us today at 1-888-231-3575 or
info@calfhutch.com
.
This Feeder is also available for purchase online at: https://calfhutchshop.com/product/large-hanging-grain-feeder/ Buy 2 or more and get FREE shipping!
About Agri-Plastics:
The VanBuuren family founded Agri-Plastics in 1995. These third-generation dairy- men know first-hand the difficulties experienced on a dairy farm. They began experimenting with hutch designs to provide healthier, more comfortable environments for calves. Over the years, Agri-Plastics has listened and learned from many other producers, and they have used that knowledge to create game-changing innovations that have since become industry standards.