Fendt Debuts New 900 Series Tractors at the Farm Progress Show in Decatur, Ill.

Fendt raises the bar for fuel-efficient power, versatility and comfort; delivering
even more productivity-enhancing advancements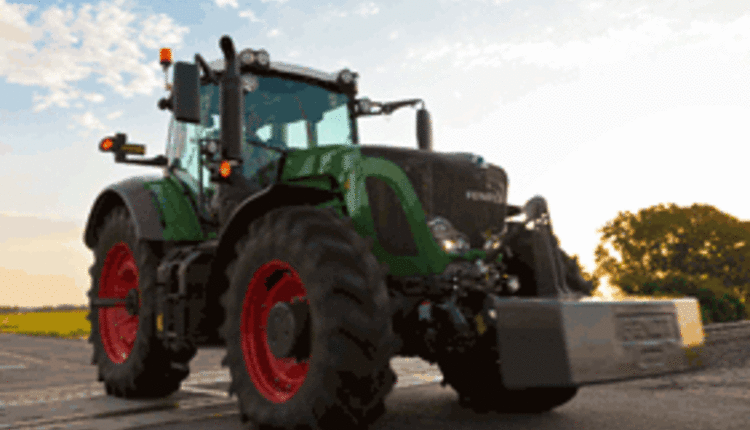 Today, Fendt will introduce the new Fendt 900 Series Vario tractors during the Farm Progress Show in Decatur, Ill. With Fendt selective catalytic reduction (SCR) technology for Tier 4-interim compliance, the latest 900 Series tractors deliver up to 7 percent greater fuel efficiency compared to previous models*, along with the productivity and efficiency-enhancing advancements farmers have come to expect first from Fendt. Other new features for the 900 Series, which offers a reversing operator station on all models, are a standard 10.4-inch Varioterminal monitor which puts control of all tractor functions in one, touch-screen terminal; the option of fully integrated guidance; and an on-board computer that makes tracking, storing and transferring data to an office PC nearly effortless.
"For many producers and custom operators, Fendt 900 Series tractors are their first choice for the combination of speed, fuel efficiency, power and technology they must have to get the most work done each day," says Mike Alvin, product manager for high horsepower tractors. "Plus, these tractors deliver the traditional Fendt ride-comfort and ergonomically designed control features that help reduce operator fatigue over a long day of work. Now, with even greater fuel efficiency and innovation, the Fendt 900 Series again raises the bar for high horsepower tractors."
New engine for power and efficiency
Available in five models ranging from 200 - 300 PTO hp (240 to 360 engine hp), the 900 Series is now powered by a Deutz 7.8-liter, six-cylinder turbocharged air-to-air after-cooled engine. Coupled with the proven, step less Vario CVT and Fendt-exclusive Tractor Management System (TMS), the Deutz engine with SCR technology provides exceptional fuel efficiency, whether cruising down the road at 31 mph (51 kph) or tilling soil at 10 mph (16 kph). Through the implementation of SCR technology, which treats engine emissions after combustion, the Fendt 900 Vario is Tier 4-interim compliant, with an average fuel-use-per hour of 6.6 gallons (25 l/h), up to 7 percent* more fuel efficient than the previous models.
Though tough and powerful, the 900 Series tractors are light on their feet with a low unladen weight of less than 23,000 pounds on even the largest model, translating to a power-to-weight ratio of 64 lbs/hp. For heavy-weight jobs, the maximum gross weight is 39,400 pounds, providing a heavy-weight tractor when needed, but no unnecessary weight when you don't.
Built for any job
Fendt is the only tractor available with an optional reversing driver station which allows 180-degree rotation of the entire front console, driver station and dash. This provides the same ride, operating comfort and productivity in reverse as in forward drive.
The tractors offer 22 equipment connections, including six rear and two front double-acting hydraulic valves, rear PTO; factory-installed front and rear three-point hitches, and full ISOBUS connection. The new 900 Series tractors ensure versatile operation and trouble-free connection for effective teamwork between the tractor and implement.
Lift capacities of the 900 Series tractors mean even heavy, rear-mounted implements for this power class can be lifted to the fullest height without trouble. The maximum rear lift capacity of is a robust 19,800 pounds, while the front tops out at a maximum lift capacity of up to 9,000 pounds.
Front-axle suspension, with leveling control, and a mechanical three-point cab suspension ensure an exceptional driving experience. For the highest level of comfort, the tractor can be equipped with pneumatic cab suspension and active seat suspension.
New Variotronic electronic control unites all functions in one terminal
Available only from Fendt, the all-new Variotronic electronic control allows the operator to direct all tractor and implement controls, camera functions, operation documentation and the automatic steering system using the single Varioterminal 10.4-inch touch-screen terminal. It can display up to four applications simultaneously.
The option of fully integrated automatic steering, which reduces overlap an average of 6 percent, helps deliver a corresponding 6 percent savings in fuel and inputs such as seed and fertilizer. Equipped with a headland management system as a standard feature, these tractors help make sure the last turn is as precise as the first. And with the easy-to-see Varioterminal, even at night or in poor visibility conditions, operators can achieve optimum results with minimal operator fatigue and possible operating errors during a long day.
The documentation system of the Varioterminal records relevant data with a minimum of effort. Data can be transferred wirelessly from tractor to office computer and from computer to tractor as well.
Big x5 cab for comfort and exceptional visibility
Within the spacious x5 cab, The Fendt 900 Series offers simple, ergonomic controls including Fendt's trademark, single-joystick control of all drive functions and hydraulics. Exceptional all-around visibility includes low lines of sight for a full view of the crop. Tinted front and side windows help offer a relaxed working environment. There are three different operator seat options, all with comfort in mind. Automatic air conditioning with an operator-selected preset ensures consistent operator comfort all day. On cold days, the optional seat heater is a comfort you wouldn't want to be without. Spacious and quiet, the cab is equipped with a wide range of conveniences, such as an air-conditioned cool box for beverages; USB power and service-supply jacks for mobile phones and media players; and a comfortable instructor seat.
The Fendt 900 Series includes:
924 Vario SCR
with 200 PTO hp / 149 kW and 240 engine hp / 177 kW.
927 Vario SCR
with 225 PTO hp / 168 kW and 270 engine hp / 199 kW.
930 Vario SCR
with 250 PTO hp / 186 kW and 300 engine hp / 221 kW.
933 Vario SCR
with 275 PTO hp / 205 kW and 330 engine hp / 243 kW.
Available only in Canada:
936 Vario SCR
with 300 PTO hp / 224 kW and 360 engine hp / 265 kW.
For more information visit your Fendt dealer or http://www.fendt.com/us.
08.30.2011