"It's corn!" has become a nationwide phenomenon as kids and adults everywhere are humming or singing the ever-so-popular tune from a TikTok video. The simple video contains a young boy expressing his love for the "lump of knobs" that is corn. The excitement the little boy has for "the juice" and its beauty will instantly melt the heart of the viewer. The excitement of the catchy, adorable tune has folks humming along and coming up with their own versions everywhere. However, many folks don't realize the impact corn has on just about everything we do and many foods we eat. To top it off, harvest season has begun or finished for farmers across the country as they work endless hours to feed the world.
Corn bread, corn meal, high-fructose corn syrup, corn fritters, corn chips, and corn starch are just a few of our favorite corn-based products in the world. The different varieties make up different colors, textures, and products we enjoy. Farmers rely on corn for both themselves and/or their livestock. Sweet corn — the corn we humans enjoy — is grown carefully by farmers to ensure it is of the highest quality for all to enjoy. Grain corn is monitored to ensure its quality is perfect for growing and maintaining livestock. With so many different corn options, no wonder it's loved by all!

Harvest season is one of the most critical and stressful times of the year for nearly all farmers. The long, stressful days add up to some exhausting weeks. The race to beat the rain or drought is on as soon as the harvester, combine, or picker hits the ground. Breakfast, lunch, and dinner are most likely served in a field or on the go. The smile at the very beginning from the adrenaline rush and overall excitement of harvest may dim slightly with breakdowns, but ultimately comes back bright when the last stalk is cut. The relief of knowing we worked hard to produce something that feeds the world really does make corn "the most beautiful thing".

---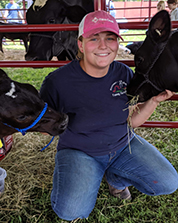 The author is a sixth-generation farmer and fifth-generation dairy producer in southwest Virginia, where she and her family own and operate a 145-head Holstein dairy. Courtney is involved in agriculture organizations throughout her community and is a graduate of Virginia Tech.