When the days and the season get long, it becomes all too easy to lose focus of why we live this crazy, hard life. If there is ever a burn out time of year for farmers, it's definitely the end of harvest. Or maybe it's spring planting, or endless summers without rain, or most definitely the dead of winter.
There really isn't a season for farming that just feels easy. Honestly, nothing about this way of life ever seems to be easy. We can thank our lucky stars if we get one day to run completely smoothly and headache free.
But "easy" is not why we choose this lifestyle. Keeping the right frame of mind through those burn out periods makes all the difference. It's taking a breath and seeing all of the tiny reasons that make up the big picture of why we farm.
It's a crystal clear star-filled night sky as we trudge to the barn for night check. Masterpiece sunrises and sunsets painted with colors almost unbelievable that would be missed if we weren't outside to see them. The majesty of the mighty bovine contentedly chewing her cud. Tiny hands helping those with the marks of years of hard work.

It's everyday little moments like those that are constant reminders if we just open our eyes to see them.
That's easier said than done when this lifestyle also offers more to accomplish than feels humanly possible most days. But it's keeping sight of that why, focusing on those magic moments, keeping that perspective that can help curb the mental burn out of dairy farming.
---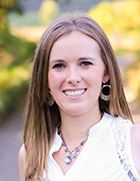 The author is a third-generation dairy farmer from Oregon where she farms in partnership with her husband and parents. As a mother of young sons who round out the family-run operation as micro managers, Darleen blogs about the three generations of her family working together at Guernsey Dairy Mama. Abiqua Acres Mann's Guernsey Dairy is currently home to 90 registered Guernseys and transitioned to a robotic milking system in 2017.