It was a different FFA chapter than last year but the same state that took top honors in the Dairy Cattle Evaluation and Management Career Development Event (CDE) held at the 95th National FFA Convention and Expo last month. Prairie Central FFA added to its national title trophy case with team members Elizabeth Ellis, Carla Kilgus, Hannah Miller, and Grace Lemenager testing their dairy cattle knowledge at the convention in Indianapolis, Ind.
Prairie Central previously won this contest in 2009 and was the runner-up in 2019. Kilgus' brother, Trent, was a member of the 2009 team and won the contest that year. Last year, the Illinois school was the winning team in the national Milk Quality and Products contest, where students evaluate milk samples and identify cheese characteristics. They also represented their state in that contest this year, finishing second overall to Klondike FFA of Texas.

The chapter's dairy evaluation team was led by Miller, who finished as the second high individual. But it was a duo from California — twins Ryan and Trevor Hath — who bookended her as they brought home the first and third place individual awards, respectively.
"It's just one class of four animals, and then the next four, and then giving reasons like you've been doing for years," said Ryan Hath of his advice for judging at the national level. "You're a winner just by competing at the contest. You just try not to let the moment get too big."
The competition includes six classes representing three breeds (Holstein, Brown Swiss, and Jersey), one set of reasons per breed, a written exam that includes evaluating Dairy Herd Information (DHI) records, and a team activity. Ryan Hath also earned the top score on the exam, which contestants took online a month before the contest, and was the high individual in Brown Swiss. His Golden Valley FFA team finished second overall and was completed by Morgan Ramirez, who was 4th overall, and Makenna Vlot, who earned a gold rating. They were coached by Merced, Calif., dairy farmer Leon Hath.
Kilgus, of the Prairie Central team, was the day's best talker and won the reasons portion. The high individual in Jerseys was Sara Dorshorst of Marshfield FFA in Wisconsin. The Holstein breed was won by Maryland's Kelsey Zepp of Francis Scott Key FFA. Another pair of siblings finished in the top 10 when Zepp earned 6th overall and edged out her brother, Bryce, who was 8th.
After Illinois and California, Florida finished in third. The team from Lafayette FFA included Callie Buchanan, Avery Buchanan, Jack Peterson, and Delaney Deadwyler. Those top three teams are invited on the International Dairy Judging Tour in Europe next summer. Attendees will compete at the Royal Highland Show in Edinburgh, Scotland, and tour dairy operations and historic locations in Scotland, Belgium, and Germany.
Wisconsin's Marshfield FFA was fourth, and North Putnam FFA of Indiana was fifth. Rounding out the top 10 teams were Kentucky, Georgia, Louisiana, Minnesota, and Maryland.

The top 10 individuals receive cash awards. They are:
Ryan Hath, Golden Valley FFA, California
Hannah Miller, Prairie Central FFA, Illinois
Trevor Hath, Golden Valley FFA, California
Morgan Ramirez, Golden Valley FFA, California
Matthew Spears, Cumberland County FFA, Kentucky
Kelsey Zepp, Francis Scott Key FFA, Maryland
Emma Bangart, Marshfield FFA, Wisconsin
Bryce Zepp, Francis Scott Key FFA, Maryland
Erin Atkinson, Mountain Crest FFA, Utah
Olivia Cormier, Rayne FFA, Louisiana
A listing of past high individuals and teams since 2001 can be found here.
In the other dairy event held at the National Convention, Delana Erbsen of Eastland FFA in Illinois won the Dairy Cattle Handlers' Activity. She was the high individual and led her team to a first-place finish in the dairy evaluation contest last year.
---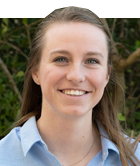 Katelyn Allen joined the Hoard's Dairyman team as the Publications Editor in August 2019 and is now an associate editor. Katelyn is a 2019 graduate of Virginia Tech, where she majored in dairy science and minored in communication. Katelyn grew up on her family's registered Holstein dairy, Glen-Toctin Farm, in Jefferson, Md.