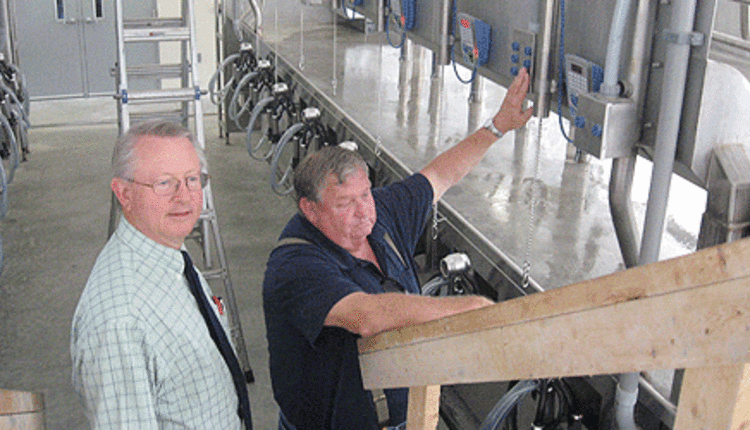 Dr. Warren Gill, left, director of the MTSU School of Agribusiness and Agriscience, and Tim Redd, MTSU Dairy Farm Lab director, inspect the dairy's new double-eight parallel milking parlor. The device, which has rapid-exit gates and can milk 16 cows at a time, is part of a $4.3 million new facility opening on Sept. 15.
MTSU's School of Agribusiness and Agriscience celebrated the grand opening of the new $4.3 million dairy and dedication of the MTSU Experiential Learning and Research Center on Thursday, Sept. 15.
The farm and new dairy are located from 3001 to 3211 Guy James Road in Lascassas, about six miles east of campus. The campus community and general public were invited.
After John Hood, MTSU director of government and community affairs, welcomed guests, the program included:
* Farm Manager Tim Redd dedicating the day to Dr. Harley Foutch, former director of the ag school;
* MTSU President Sidney A. McPhee making grand-opening remarks;
* Tennessee Department of Agriculture Commissioner Julius Johnson addressing the crowd;
* ag school Director Dr. Warren Gill providing instructions for the rest of the Ag Field Day activities for attendees; and
* the ribbon-cutting ceremony, followed by a tour of the dairy's milking parlor and other farm facilities.
The dairy's features include a double-eight parallel milking parlor with rapid-exit gates that can milk 16 cows at a time and a computer-controlled milking system with individual cow-ID and cow-activity measurements, along with real-time milk weights and milk-quality measurements. The milking system includes an in-line heat exchanger to precool the milk to 58 degrees before it enters a 2,000-gallon bulk tank, where it will be cooled again to 38 degrees.
To reach the farm and dairy, take Halls Hill Pike to Guy James Road. Turn left and travel about one mile to the new dairy entrance on the left. Signs and a large fiberglass cow will direct attendees to the top of the hill.
– Randy Weiler (Randy.Weiler@mtsu.edu), MTSU News and Media Relations
09.19.2011