I'm going to keep this brief because the message for my last blog of 2022 is simple. Focus on being you.
The end of the year brings with it all this pressure. We must make the holidays perfect so we can reflect on the past year and realize how grateful and blessed we are. Then it's time to set New Year's resolutions and use those reflections to fix our inherent flaws so we can set even bigger goals for the year to come. By the time January 5th rolls around, we're all exhausted and feeling pretty bad about the fact that we've already blown half of our resolutions, and nothing has changed except our calendars.
So, let's just, not. Ok?
Why not start the new year the way you intend to live it? As you. Let go of all the traditional feelings and expectations that make you feel like you need to change and just embrace the person you are or are becoming. I'll be honest, I've had a rough year. Circumstance, not choice, made this the year that I had to get my life together. And what I've learned is that you can reflect any day of the year. January 1st isn't the magical date of all things change.
For better or worse, we were meant to be the people we are and to experience the things we experience. Instead of spending the last and first month of each year trying to change ourselves, I say we embrace ourselves. No one will ever say it better than Dr. Seuss:
"Today you are you, that is truer than true.

There is no one alive who is youer than you."
So go out and own it.
---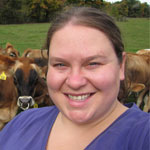 The author dairies in partnership with her parents and brother at Spruce Row Farm in Pennsylvania. Jessica is a graduate of Pennsylvania State University, and since 2015, she has been active in promoting dairy in her local community. You can find her and her 250 Jersey cows on Facebook at Spruce Row Dairy or on Instagram at @seejessfarm.