Southwest Wisconsin Technical College earned its first victory in the collegiate division this year.
For the 93rd year, our office flooded with mail from around the country as dairy farmers, youth, companies, and enthusiasts sent in their placings in our annual Cow Judging Contest. It is always a joy to see so many people of all ages and experience levels try their hand at the contest because they have one thing in common — a love of dairy cows!
This year was especially exciting because we received almost 1,700 more entries than last year, and they came from all 50 states as well as Washington D.C., plus Canada and South Africa. Groups and individuals across the divisions earned high scores, and there were also some tight races that called for tiebreakers to determine the final placings. The Supreme Champion selection is the first tiebreaker when two or more entries tally the same score, but when that is also the same, then the individuals must place each class on the five scorecard breakdowns. Our official judges do the same when they submit their placings, so we are able to score the contestants' placings against their answers.
If you placed the classes and still need to see how you did, visit this page to read the judges' officials. The officials and scoring key were also printed in the April 25, 2023, issue of Hoard's Dairyman. Don't worry if your scores weren't what you were hoping; there's plenty of time to practice before the 94th contest!
Our winners in this year's competition came from states around the country and included dairy farmers, agricultural students, industry leaders, and more. Thank you to everyone who spent time judging the classes with their families, clubs, friends, or simply trusted their own gut. Here's who came out on top this year:
Senior division: Jeff Polinder of Lynden, Wash.
Junior division: Rachel Tomblinson of Fayetteville, Ark.
Family division: Jodie Pennington family of Coppell, Texas
Ag instructor division: Robyn Bechtel of Curryville, Pa.
Ag education division: Marshfield FFA of Marshfield, Wis.
4-H division: York County 4-H Dairy Club of York, Pa.
College division: Southwest Wisconsin Technical College Team 5 of Fennimore, Wis.
Co-op/ag business division: Premier Select Sires of Tunkhannock, Pa.
You can learn more about these winners and the top finishers in every division in the May issue of Hoard's Dairyman.
Judging brings people together
Who did you discuss the classes with this year? There's no better way to bring dairy people together than talking about cows, and we are glad to provide that opportunity each year. Below are a few of the kind comments we heard from some of the top finishers this year, and we're sure many more of you have similar stories. We hope you will enjoy next year's contest and make more memories with both new and seasoned dairy judges!
The kids from the class were really excited. They thought I was doing some kind of April Fool's joke. -Tim Heeg, Marshfield FFA (1st FFA team)
This is the first year that Phibro has competed in the Hoard's contest. I led our team of eleven, and since team members are located throughout the nation, we met over a Microsoft Teams call and enjoyed discussing the classes in detail. No doubt we have a new tradition! Thank you for the great opportunity, Hoard's Dairyman! -Jacob Pieper, Phibro Animal Health (3rd co-op/ag business team)
What great news! Coaching is a new venture for me this spring, and I am truly enjoying working with these fantastic kids! -Kate Teixeira, Turlock FFA (4th FFA team)
Rachel and Allison completed the contest while on spring break from school and visiting their grandparents in Coppell, Texas. The girls are so excited! -Jodie Pennington (1st family with his granddaughters)
This was an exciting email to get! We look forward to the contest every year. -John Zonneveld, Zonneveld Dairies (4th co-op/ag business team)
After years of being second, we finally won! -Lisa Spahr, York County 4-H Dairy Club (1st 4-H team)
---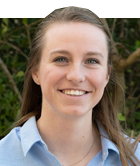 Katelyn Allen
Katelyn Allen joined the Hoard's Dairyman team as the Publications Editor in August 2019 and is now an associate editor. Katelyn is a 2019 graduate of Virginia Tech, where she majored in dairy science and minored in communication. Katelyn grew up on her family's registered Holstein dairy, Glen-Toctin Farm, in Jefferson, Md.