The information below has been supplied by dairy marketers and other industry organizations. It has not been edited, verified or endorsed by Hoard's Dairyman.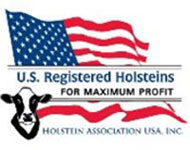 Holstein Association USA's delegate election process is currently underway. Each year, members have the opportunity to nominate members from their state to serve as voting delegates at the following year's Holstein Association USA Annual Meeting. The 138th Annual Meeting will be held on June 26-27, 2024, in conjunction with the National Holstein Convention in Salt Lake City, Utah.
Each member has been sent a Nominating Petition in the mail. Members can use this form to nominate eligible nominees from their state (or district), including themselves. Eligible nominees are individual members or representatives of corporate, partnership, institution, or estate members.

<!-no ad-->
"You, our Holstein Association USA members, are important in helping us to forge change," says Holstein Association USA President Jonathan Lamb. "We need you to be involved in your local and national Holstein associations, and serving as a delegate is a meaningful and important way to do so."
Members become ineligible to serve as a delegate after serving as a delegate at three consecutive Annual Meetings. A list of Ineligible nominees for 2024 can be found here: www.holsteinusa.com/HAUSAineligible_delegates.html

All members who are nominated will be notified and have an opportunity to accept or decline their nomination.
Once the petitions have been processed and the nominees notified, ballots will be mailed to all members to vote and elect the delegates for their state (or district).
Delegates elected to serve will receive a reimbursement of $1,000 for their expenses after they have attended a participated in the 138th Annual Meeting in Salt Lake City, Utah. More information about the 2024 National Holstein Convention can be found at www.holsteinconvention.com.

Important dates for delegate election:
July 27, 2023 - Nominating petitions mailed to members
September 29, 2023 - Nominating petitions must be received by Holstein Association USA
October 13, 2023 - Deadline for nominees to withdraw names from the ballot
October 30, 2023 - Ballots mailed to members
December 29, 2023 - Ballots must be received by Holstein Association USA
February 1, 2024 - 2024 delegate election finalized