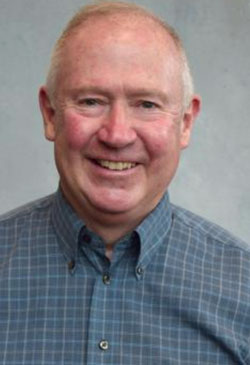 The newest dairy specialist on the dairy extension team with Iowa State University Extension and Outreach brings veterinary and real-world dairy experience to the position.
Phil Jardon, who began working at Iowa State University in July as a clinical associate professor, is the newest dairy extension veterinarian.
Jardon grew up on his family's diversified and small dairy farm in southwest Iowa, and spent time with Elanco Animal Health as a technical consultant, before coming to Iowa State. He has teaching experience at UC-Davis, where he was a resident and then a clinician of dairy production medicine.
"I love the dairy industry, partly because I grew up in it and I just love the products," said Jardon. "I earned my veterinary degree from Iowa State in 1986 and I have a high regard for this institution."
Jardon will continue his teaching duties and is looking forward to working with the other members of the extension dairy team – Gail Carpenter, Jenn Bentley, Fred Hall and Larry Tranel.
Jardon is also excited to work with the other Iowa State food animal extension veterinarians: Jan Shearer, dairy; Chris Rademacher, swine; Grant Dewell, beef; and Yuko Sato, poultry.
<!-no ad-->
"We have a great team committed to the Iowa dairy industry, and our state offers a lot of diverse opportunities in dairy, including large and smaller farms, milk goats and on-farm processing," he said.
Jardon said the dairy standards keep getting higher in the industry on almost every aspect. Some of his passions are helping with metabolic diseases of cows, especially mineral metabolism issues.
"I welcome Phil to the team," said Gail Carpenter, state dairy specialist at Iowa State. "His years of dairy experience and interaction with the industry make him a great fit for his role as extension dairy specialist."
Said Jardon, "I look forward to working with the team and supporting Iowa's dairy industry."
Phillip Jardon lives with his wife, Denise Jardon, in Huxley, and the couple have three children: Derek, Grace and Wyatt Jardon.
He can be reached at 515-294-7424 or pjardon@iastate.edu