Early in my career, a new employer asked me to take a personality test as part of my onboarding. I was an engineer, and I felt strongly that I was not meant for sales. The owner of the company thought I was a "hunter," and, as it turns out, she was correct. Those that love to solve problems (hunt for answers) are typically very successful in sales. As much as I initially protested, my test results indeed showed I was a hunter, and this ended up being a foreshadowing of sorts of the early years of my career.
Fast-forward a decade, and as a member of the International Dairy Foods Association's (IDFA) NextGen program a few years ago, we were given the opportunity to take another personality test. We read and talked about the test results as a group at the time. I filed it away and did not think much of it until my sister recently sent me a text message about her own results after taking the same test.
So, I dug up my test results. I looked at my strengths, and they all still apply. No surprise there. I looked a little closer and then noted the "blind spots" that accompany each strength. Wow, talk about a lightbulb moment. I apparently knew about these blind spots four years ago and, well, I was still blind to them!
Ultimately, I am reminded that it is so easy to focus on today and tomorrow that I forget to reflect. There are resources that can help us navigate life, yet they are worthless if you do not use them. This goes far beyond personality tests and introspection. But, for me, this simple exercise highlights an area of my life that I need to improve; taking inventory of what I have and using it to its potential. It is so easy to notice what you're missing or focus on what is troubling you that you forget all the goodness and tools you have in your life to help you navigate it. A spear is of no value if the hunter doesn't use it.
---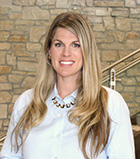 Erin Massey
Erin Massey is the product development manager at Prairie Farms, a farmer-owned cooperative based in Edwardsville, Illinois. She is responsible for overseeing all aspects of the development process, from concept to commercialization. Erin grew up on a Florida dairy farm and has a deep-rooted passion to invigorate the dairy industry. Erin earned a bachelor's degree in chemical engineering from the University of South Florida. Her personal mantra is "Be Bold."