Fall has been a riot of color this year in the Pacific Northwest. Everywhere I look this year seems to just be vibrant with the changing colors of the leaves. The sun breaks through the downpours to illuminate russets, golds, reds, and yellows. I'm not sure I ever remember such a bright display.
We wrapped up our grazing season, and that will leave a beautiful impression until spring — brown cows on renewed bright green grass amidst a background of colorful trees. Some images just can't be captured in a picture with their depth of beauty.
Fall is usually not my favorite season. The changing temperatures speak of the long cold season to follow, and the rainfall our region so desperately needs also makes chores a miserable, wet affair. Then there's the rush to finish harvest and get everything taken care of before winter sets in. It takes some willpower to find the positives in what can feel so very dreary.
It's a practice of cultivating a mindset of thankfulness, an attitude I think gets passed over with the business of the holidays. I am very much on the side of giving thanks the time it deserves and allowing that time to be a reminder of everything in our lives we are thankful for.
Mindset is such a powerful force in our lives. I know it is so much easier said than done, especially in a stressful dairy career and in a world that feels so very chaotic. Taking a little time to make it a habit to think of what we are thankful for can have such a positive effect.
It's the art of noticing the little things throughout our day that bring happiness. It's also about just bringing the big things we are thankful for in our lives to the forefront of our minds. This season, challenge yourself to hold a mindset of thanksgiving.
---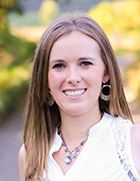 The author is a third-generation dairy farmer from Oregon where she farms in partnership with her husband and parents. As a mother of young sons who round out the family-run operation as micromanagers, Darleen blogs about the three generations of her family working together at Guernsey Dairy Mama. Abiqua Acres Mann's Guernsey Dairy is currently home to 90 registered Guernseys and transitioned to a robotic milking system in 2017.