Ten young people were honored November 5, 2011 for their accomplishments in the National Jersey Youth Achievement Contest.
The contest recognizes outstanding achievement by junior Jersey breeders in four areas: work with Registered Jerseys™, related dairy activities, relative progress, and future goals. They were selected from 17 outstanding youth nominated by state Jersey associations, based on their cumulative record through December 31, 2010.
The American Jersey Cattle Association presented cash awards totaling $3,000, including $600 to the contest winner, at the Junior Banquet held in conjunction with The All American Junior Jersey Show in Louisville, Ky.
The Top Three Honorees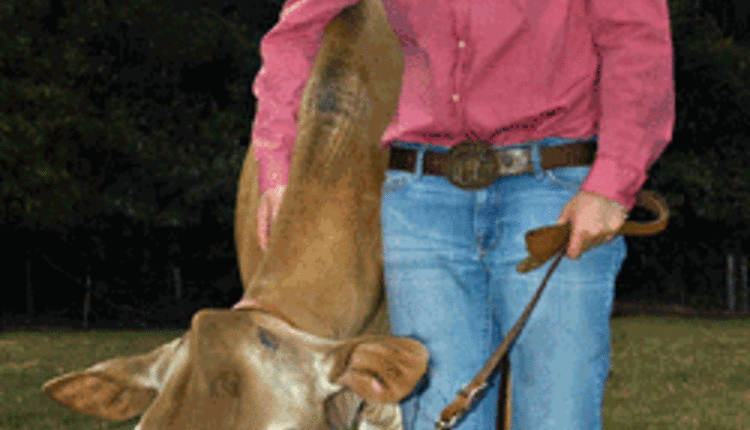 Amber Ettinger,
daughter of Ed and Cheryl Ettinger of Kinards, S.C., is the winner of the National Jersey Youth Achievement Contest. A junior majoring in dairy science at Virginia Tech, she has completed 14 years with Jersey youth projects. Over that time, she has developed a herd of 28 cows and 25 heifers with the cows averaging 19,265 lbs. milk, 892 lbs. fat and 663 lbs. protein, mature equivalent, in 2010. For the past three years, Amber has placed first in the South Carolina Jersey Production Contest. In 2010, she was second alternate in the National Jersey Queen Contest.
Amber is active in a number of community service projects, such as Micah's Backpack, a program that supplies underprivileged children with book bags containing enough food to last the weekend. Her efforts have earned recognition from South Carolina State 4-H, numerous scholarships, and selection to the inaugural class of Jersey Youth Academy. Amber was voted the Outstanding Freshman of the Year Award for her involvement with Virginia Tech Dairy Club. She was also South Carolina honoree for the President's Volunteer Service Award and Outstanding Junior Civitan of the Year. Amber hopes to pursue a career in the dairy industry, perhaps marketing and selling milk from her family's Jersey herd.
Ranking second was
Kyle Schirm,
the son of Paul and Dawn Schirm, West Salem, Ohio. By making key purchases at the Pot O'Gold Sale and more recently utilizing sexed semen, he now owns 19 cows and 11 heifers. The average of 11 lactation records completed in 2010 was 17,589 lbs. milk, 818 lbs. fat and 648 lbs. protein, with four of his cows scored Excellent. Selected for the first Jersey Youth Academy, Kyle is majoring in finance at Ashland University.
In 2010, Kyle received the Peter Jackson Scholarship and earned his American FFA Degree. He recently completed an internship with Weaver Leather's Livestock Sales Division. Kyle plans to remain in the financial field, working both on and off the farm. He would eventually like to market all-natural cheese and yogurt, taking advantage of the increasing demand for local products in his community.
Third place went to
Cassandra Chittenden,
a fourth-generation Jersey breeder from Schodack Landing, N.Y., and daughter of Brian and Beth Chittenden. She now owns a herd of 28 cows, averaging 20,381 lbs. milk, 1,003 lbs. fat and 709 lbs. protein in 2010. She is a sophomore at Cornell University, majoring in animal sciences with plans to minor in agribusiness.
As a student at Cornell, she is a member of the Red Carpet Society, an organization that hosts prospective students and provides guests with college experiences. She hopes to participate in a study abroad trip to New Zealand in the coming years to gain an understanding of the dairy industry in different parts of the world. Cassandra was a member of the first class of Jersey Youth Academy classes and received numerous state and national scholarships last year.
Rounding Out The Top 10
Ranking fourth through tenth in the contest were:
· Kelli Ann Carstensen,
a junior at California Polytechnic State University majoring in dairy science with an agribusiness minor with plans to attend law school. She is the daughter of Neal and Sally Carstensen, Petaluma, Calif. In her 12 years of Jersey youth work, Kelli has developed a herd of 19 cows and 12 heifers, with the cows averaging 16, 366 lbs. milk, 639 lbs. fat and 567 lbs. protein in 2010. She also has a keen eye as a judge, placing as third high individual and being a member of the Petaluma FFA team that won its division at the International Dairy Judging Contest held in Edinburgh, Scotland in 2010.
· Stacey A. Theobald,
the daughter of Charles and Amy Theobald, Creamton, Penna. Stacey is a student at Penn State University majoring in animal science. She owns 18 Jersey cows, four scored Excellent and 13 Very Good, producing an average of 16,214 lbs. milk, 851 lbs. fat and 625 lbs. protein in 2010. She is a member of numerous student groups at Penn State including the Dairy Science Club and Collegiate FFA, for which she is the community service chairperson. Stacey has plans to return to the family farm and help promote the new creamery her parents opened and also help support local 4-H efforts.
· Cassandra Krull,
the daughter of Cindy Krull and the late Brian Krull of Lake Mills, Wis. She is a freshman at Allen County Community College in Kansas, majoring in agribusiness. Her herd consists of seven cows, two scored Excellent, and four heifers, with the cows averaging 16,352 lbs. milk, 876 lbs. fat and 592 lbs. protein m.e. in 2010. Cassandra is no stranger to the tanbark trail, earning Grand Champion at the Wisconsin State Fair and Reserve Intermediate Champion at the Kansas State Fair in 2010.
· Kara Maxwell,
daughter of John Maxwell, Donahue, Iowa. During her 13 years of participation in Jersey youth activities, she has developed a herd of 22 cows and 24 heifers with the cows averaging 20,065 lbs. milk, 1,021 lbs. fat and 760 lbs. protein. Over the past five years, Kara has purchased heifers in the Pot O'Gold Sale, with the most recent purchase placing eleventhth in the 2010 Pot O'Gold Contest. Kara is also well accomplished in academics, being selected to attend the World Leadership Congress and becoming National Honor Society member in 2010.
· Tera Koebel,
daughter of Terry and Jennie Koebel, of Three Oaks, Mich. She is a senior at Michigan State University majoring in agribusiness management. The recipient of an American FFA Degree, Tera owned the Premier Performance Cow of both The All American Jersey Show and All American Junior Jersey Show in 2010. She was also selected first alternate in the National Jersey Queen Contest last year. Tera has taken her passion for the dairy industry global, traveling to the United Kingdom as the Great Lakes Dairy Ambassador and organizing a trip to attend the Royal Agricultural Winter Fair in Canada.
· Avery Lutz,
daughter of Wayne and Karen Lutz, Mocksville, N.C. A student at New River Community College Avery has achieved considerable success with her Jerseys. She owns seven cows scored Excellent and achieved a 2010 production average over 21,000 lbs. milk. In 2010, Avery was awarded the Reuben R. Cowles Youth Award and served on the Junior Activities committee for The All American Jersey Shows & Sales. She was also a member of the inaugural class of Jersey Youth Academy.
· Corbin Wood,
son of Steve and Christine Wood, Littlestown, Penna. He is a sophomore at the Pennsylvania College of Technology, associated with Penn State University, majoring in building construction technology. Ten years ago, Corbin started his own herd of Jersey with a single purchase. Today, his herd includes six cows and six heifers with the cows averaging 14,232 lbs. milk, 803 lbs. fat, and 534 lbs. protein, mature equivalent. Corbin is active with 4-H and FFA, receiving numerous local scholarships. Using his building construction technology education, Corbin hopes to one day own his own construction business that would specialize in dairy facilities.
The National Jersey Youth Achievement Contest has been sponsored annually since 1957 by the American Jersey Cattle Association. The list of previous winners is published in the USJersey web site at http://www.usjersey.com/YouthProgram/achievewinners.htm.
About the National Jersey Youth Programs
Organized in 1868, the Jersey association has sponsored educational programs and activities for young people interested in the Jersey breed since 1917. Junior members have the same registration privileges as Lifetime Members, and also the incentives of a comprehensive program leading to national recognition for their achievements with Jersey cattle.
These programs include:
Free membership in the association until the youth's 21st birthday (upon application to the association); The All American Junior Jersey Show, to be held for the sixtieth time in 2012, in Louisville, Ky., providing the thrill of competition in the largest show of Registered Jerseys™ in the world and introductions to lifelong friends from across the United States; the National Jersey Youth Production Contest and Pot O'Gold sales, which create incentives for keeping production and management records; national scholarships that help pay for hands-on work experiences and college educations; the National Jersey Youth Achievement Contest, the ultimate recognition for Jersey youth between the ages of 16 and 20; and Jersey Youth Academy, an intensive educational program to be held in July of 2013 in Columbus, Ohio.
The annual National Heifer Sale is the primary source of funding for the AJCA's youth program. Additional funds are available from the Maurice E. Core Jersey Youth Fund, the Charlene Nardone National Jersey Queen Fund, the Carl Bourne Memorial Fund, and the scholarship funds managed by the American Jersey Cattle Association.
For More Information
For more information about the American Jersey Cattle Association's youth development programs, contact Dr. Cherie L. Bayer, Director of Development, at 614/322-4456, or visit the USJersey web site at www.USJersey.com.
12.12.2011