DeLaval Opti Blue™: The dairy industry's first DDBSA-based pre-dip
DeLaval strives to offer dairy producers effective, fast-acting teat dips to help them protect the milk quality and udder health of their herd. With the launch of DeLaval Opti Blue™ – a pre-milk teat dip – customers can be sure that even heavily soiled teats are clean before milking. Lab and customer tested, DeLaval Opti Blue can help farmers cost-effectively fight mastitis – the number one on-farm disease responsible for milk loss.
Formulated with dodecylbenzene sulfonic acid (DDBSA) and two percent glycerin for teat skin conditioning, DeLaval Opti Blue kills the most common mastitis-causing pathogens in 15 seconds. Lab tests at the DeLaval facility in Kansas City, Mo., showed DeLaval Opti Blue to have a 99.999% kill rate (or log reduction of 5) even with a 1 percent milk soil challenge.
Germicidal Efficacy of DeLaval Opti Blue™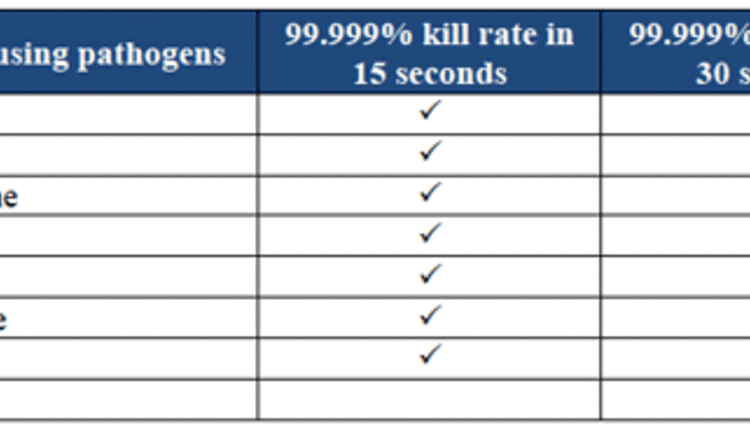 Tests of DeLaval Opti Blue performed with a 1 percent milk soil challenge by a DeLaval R&D lab in Kansas City, Mo. Check mark = 99.999 percent kill rate or a log reduction of 5.
Maintaining good udder health is essential to a dairy producer's operation, says Dr. Tom Hemling, Vice President of Research & Development for DeLaval. "To help ensure herd productivity, DeLaval is continuously developing new teat dip solutions and testing them against the strict EN 1656 test protocol."
Hemling continues: "The cleaning action and germicidal killing power of DeLaval Opti Blue is excellent. It can remove and suspend soils while also weakening and disrupting bacteria cell walls killing what's inside."
Available to customers in the U.S., DeLaval Opti Blue can be applied as a foam, dip or spray – making it flexible enough to accommodate any producer's pre-milk hygiene routine. DDBSA, the primary active ingredient in DeLaval Opti Blue, naturally has good foaming properties. The product's blue color is very obvious when applied as foam helping to ensure every cow gets wiped clean before milking.
The active ingredients in DeLaval Opti Blue make it gentle on teats and safe for milkers to handle. There is also no strong smell or skin staining associated with DeLaval Opti Blue. The product comes pre-mixed and formulated for year-round use.
2.14.2012