Sixteen three-year-old Holstein cows became stars as they entered the Coliseum arena at the Wisconsin State Fair in West Allis, Wis., on Saturday, August 11, 2012 to compete for first place in the 26th Annual Wisconsin Holstein Futurity. Paul Trapp was put to the test as official judge for the show that evening.
Topping the class in both the junior and open division was Siemers Goldwyn Glams-ET owned by Crystal, Jordan, Josh, Jake, Connor & Lauren Siemers and shown by Jordan Siemers of Newton, Wis. They received a $1,500 check from Badgerland Financial, major sponsor of the Wisconsin Holstein Futurity. Siemers Goldwyn Glams-ET also took home the honor of Best Udder and Top Bred and Owned. As first junior, Siemers received an award sponsored by Angela Davis-Brown of Ma-Brown Holsteins and Jerseys and $50 sponsored by the Wisconsin Junior Holstein Association.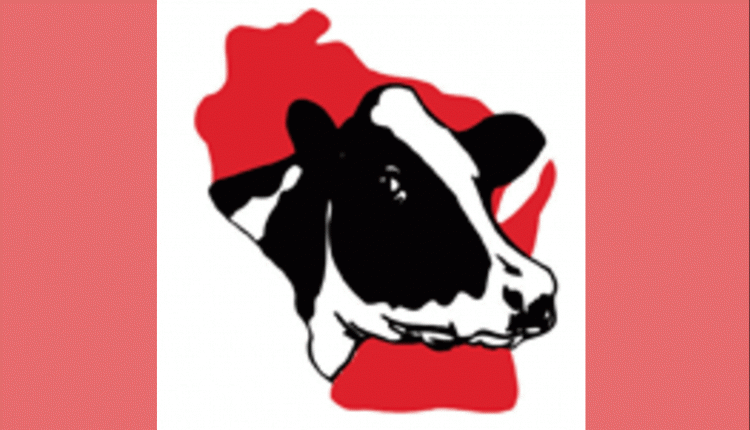 Following close behind in second place was Ms Crescentmead Gld Aqua-ET owned by Jordan and Whitney Ebert of Algoma, Wis. She took home a check for $750 presented by International Protein Sires. She was also named the second place junior.
Dorsland Dundee Dosequis-TW, owned by John Dorshorst of Dorsland Holsteins from Junction City, Wis., was the third star of the show. Agropur presented a check for $500 to Dorshorst and Dorsland Dundee Dosequis-TW.
Receiving top honors for milk production was Indianhead Fine Triumph, exhibited by Bob Schauf of Indianhead Holsteins of Barron, Wis. Indianhead Fine Triumph also received recognition for the top combined fat and protein award.
As usual, exhibitors paraded their animals around the arena dressed in nothing less than their best. The Holstein Futurity is different from a traditional show because exhibitors trade in their show whites for tuxedos, suits, and formal gowns to compete for the title of best dressed. Each exhibitor looked like a star in his or her formal apparel; however, only three best-dressed individuals were named. Each best-dressed individual received a photo frame and a cash award.
The Wisconsin Holstein Association and Wisconsin Junior Holstein Association sponsored the Best Dressed awards. Best Dressed Junior went to Carley Krull from Lake Mills, Wis., exhibiting Krull Damion Ego. Kyle Natzke from Fond du Lac, Wis., exhibiting Philmardo Jolie Jasper was awarded Best Dressed Male. Finally, Best Dressed Female went to Chelsea Holschbach of Baraboo, Wis., exhibiting Heatherstone Razzy-Red-ET.
The purpose of the Futurity is to help promote the dairy industry to the general public and display the care and dedication Holstein breeders have for their animals and the products they produce. These animals are nominated by their owners as young calves in the hopes of developing into three-year-old star-worthy cows. In 2009, 180 registered Holsteins were entered to exhibit in the 2012 Futurity.
About Us
Wisconsin Holstein is a membership organization with the purpose of promoting the Wisconsin Holstein Registered Breed and its breeders and owners. For more information visit the WHA website at www.wisholsteins.com.
08.14.2012