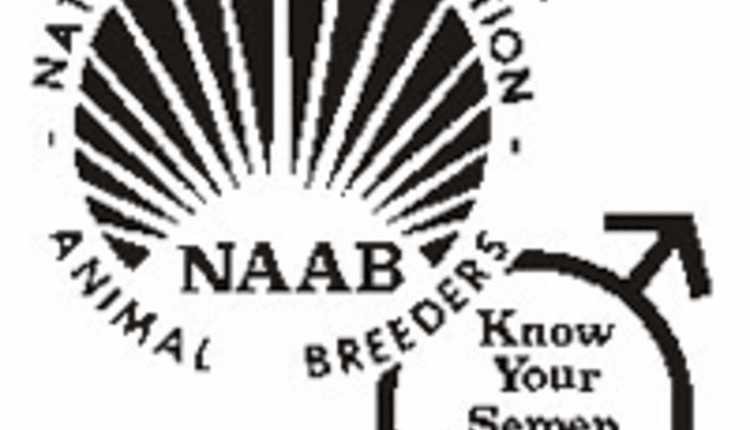 Over the dates of September 19-20, the National Association of Animal Breeders (NAAB) held their annual meeting at the Wyndham Milwaukee Airport Hotel, Milwaukee, WI, in conjunction with the 24th NAAB Biennial Technical Conference on Artificial Insemination and Reproduction. Both functions combined, drew a crowd of approximately 275 attendees with 10 companies exhibiting their products, and nine international and 10 Canadian participants. A Convention Welcome reception sponsored by NAAB was held the evening of Wednesday, September 19th, and on Thursday, September 20th participants attended a special Awards Luncheon where 19 recipients received an award.
NAAB BUSINESS SESSION
The Convention Business Session was held Wednesday afternoon, September 19th. In his Chairman's Address, Dr. Ole Meland noted that the advancement of genetics through genomics has given new meaning, purpose and need for cooperation of NAAB members. This cooperation will allow the industry to maximize the benefit of this tool long into the future.
Meland stated that the 2010-2011 business year was a successful year and the association is in a strong financial position. He also credited a variety of committees as resources in the NAAB Board's decision making process. And stressed the point that these committees are vital to the ongoing success of the National Association of Animal Breeders.
Meland also highlighted items that NAAB has been working this past fiscal year: a Cooperative Agreement between the CDCB and USDA/ARS, and the Business Plan for the CDCB to address the long term sustainability of the industry database and genetic evaluations. Other topics of importance to the industry including: parentage verification, conformation evaluation programs, increasing the size of the Certified Semen Services (CSS) Board of Directors, membership requirements, and a strategic plan.
Dr. Gordon A Doak, NAAB president, reported that the total dairy and beef unit sales for
2011 increased 6.9% to 47,735,000 units. Export unit sales increased 8.3% to 17,970,800 units. The total dollar value for exports increased 7.7% in 2011, to $133,421,600.
He also stated that since the end of 2008, reports received by NAAB show that a total of 49,697 bulls have been genotyped, including 15,616 bulls genotyped in fiscal year 2012.
DIRECTOR ELECTION
Three directors were elected to the NAAB Board this year, Keith Heikes, Genex Cooperative (incumbent), Chuck Sattler, Select Sires (incumbent), and Dr. Nate Zwald, Alta Genetics USA. Other members of the Board include Dr. Ole Meland, Accelerated Genetics; Dr. Marjorie Faust, ABS Global; Wayne Glaeser, Glaz-Way Enterprises; Les Hutchens, Reproduction Enterprises.
At the Board reorganization meeting Dr. Ole Meland was again elected Chairman, Keith Heikes, Vice-Chairman and Marj Faust, third member of the Executive Committee.
AWARDS
At Thursday's Awards Luncheon, Tom Bjelland, Genex Cooperative, presented award recipients Dean Griswold, Michael Milizia with 100,000 Cow Award plaques. Robert Diliberto, Timothy Lynch, and John Underwood received the 1,000,000 Unit Sales Award. Doug Westenbroek received an award for 2,500,000 Unit Sales and William Ziese received the 3,000,000 Unit Sales award.
Joel Groeskreutz, presented Accelerated Genetics' award recipients Gary Hansen, James Modaff, Benjamin Slack and Robert Wolfe with the 100,000 Cow Award plaques. Robert Lange received the 175,000 Cow Award. Allan Hanselman and Anthony Mayer 500,000 Unit Sales Award.
Dave Thorbahn of Select Sires, presented award recipients, Darvin Yoder with the 100,000 Cow Award; Howard Minnema with the 150,000 Cow Award; and Glen Stewart received the 1,000,000 Unit Sales.
NAAB Chairman of the Board, Ole Meland, presented the 2012 NAAB Member Director award to John Ruedinger, Genex Cooperative/CRI. Dr. David Patterson was presented the 2012 NAAB Research Award.
NAAB EDUCATIONAL SESSION
The educational session consisted of the entire NAAB 24th Biennial Technical Conference
program, which took place on Thursday, September 20 and Friday morning, September 21. There were a total of 22 speakers, 10 of which were non-industry.
Next year's annual meeting will be held in Kansas City, Missouri at the Hilton Kansas City Airport Hotel, August 20-21, 2013.
NAAB 24th TECHNICAL CONFERENCE ON ARTIFICIAL INSEMINATION AND REPRODUCTION
The NAAB Technical Conference opened Thursday morning, September 20 with a line up of eight speakers whose topics included: Structure for Future Genetic Evaluations; Sire Fertility Evaluation Update; Important Milestones in the AI Industry; What's happening in Beef Genomics; NAAB/CSS Semen Quality Control Program. Thursday afternoon attendees could choose to attend either a Barn Session or a Lab Session each including five specific topics of importance. In the evening participants were invited to a Reception hosted by the NAAB Technical Committee which was held in the exhibit area. The following morning, Friday, September 21, the Technical Conference continued until noon with speakers presenting excellent information on Sexed Semen: Beef Bulls/Offsite Collections/Other; Environmental Effects on Semen: Collection Room to Cowside; Buffalo Dairying in Italy, Epigenetics and Increasing AI Efficiency. Friday afternoon featured a Semen Quality Workshop in which three presentations were made including CSS Audit and Semen Quality Control; Evaluation of Semen Volume and Concentration; Evaluation of Sperm Motility and Evaluation of Sperm Morphology. Breakout/demonstration stations were available to attendees for hands-on training in various areas of semen volume/concentration, motility and morphology.
10.22.2012