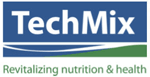 TechMix and AGSP Global partnered to sponsor a seminar in Cremona, Italy that brought together veterinarians, dairy producers, and distributors from across Europe to learn about how specialty nutrition products could help optimize genetic outcomes for dairy cows. The seminar was held at the Cremona Palace Hotel with attendees from more than ten European countries.
Keynote speakers from Lallemand and TechMix presented product technical data while spokespersons of customers from Ireland, Spain, Portugal, and Germany provided testimonials regarding product effectiveness, customer retention and viewpoints on product usage.
Products discussed were Bovine BlueLite®, Fresh Cow YMCP, TriMic and TriStart. Each of these products addresses specific health and performance challenges brought about by various stress events livestock experience. These stress events could include dehydration, low feed intake, freshening, weaning, transport and many more. The premise of the seminar is that dairy cows cannot reach their full genetic potential when these stress events interrupt their health and performance. These specialty products are now made available through regional distribution in each EU country.
11.02.2012