With the recent interest in California joining the Federal Order pricing system, the CDI Board of Directors and management have taken a proactive step to investigate what impacts might be expected as a result of adopting federal milk pricing regulations. Accordingly, CDI has commissioned a comprehensive modeling study of a California federal milk marketing order, the first of its kind. Committed to working together to ensure the sustainability of the California Dairy Industry, Dairy Farmers of America Western Area (DFA) and Land O'Lakes (LOL) have agreed to join CDI and participate in the study.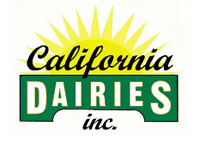 CDI has contracted with Dr. Mark Stephenson, director of dairy policy analysis at the University of Wisconsin's College of Agricultural and Life Sciences, and Dr. Chuck Nicholson, clinical associate professor of supply chain management at Penn State University, to perform the five-month study and assess what can be expected by replacing the state milk marketing order with a federal counterpart.
About California Dairies, Inc.
California Dairies, Inc. is the largest member-owned milk marketing and processing cooperative in California producing 43 percent of California's milk. Co-owned by more than 420 dairy producers who ship more than 17 billion pounds of Real California Milk annually, California Dairies Inc. is a manufacturer of quality butter, fluid milk products and milk powders. In addition, California Dairies Inc. is the home of two leading and well-respected brands of butter – Challenge and Danish Creamery. California Dairies' quality dairy products are available in all 50 United States and in more than 50 foreign countries. For additional information on California Dairies, Inc., visit www.californiadairies.com.
11.05.2012