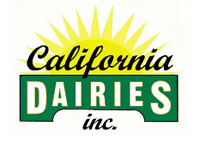 Committed to working together to ensure the sustainability of the California dairy industry, California Dairies, Inc. (CDI), Dairy Farmers of America Western Area (DFA) and Land O'Lakes, Inc. (LOL) have submitted a petition to the California Department of Food and Agriculture requesting an emergency public hearing to consider a change to the Class 4b pricing formula. The petition specifically requests a temporary modification to the sliding scale that translates market prices for dry whey into higher monetary contributions to the California Class 4b price. This change to the Class 4b milk pricing formula would remain in place for 12 months and would represent the full value of whey as contained in the federal class III pricing formula.
California dairy families have been and continue to be under a great deal of financial stress, and the major factor in the question of California dairy farm survivability is achieving a sustainable margin. Feed price is a component of margin, making up nearly 70 percent of the cost of producing milk. The other main component to margin is milk price, and at issue in California is the method by which whey is considered as part of the milk price. Quite simply, the additional value of dry whey that is being captured by the federal order class III pricing formula is not, for the most part, being captured by the California Class 4b pricing formula. Therefore, CDI, in coordination with DFA and LOL, has requested an amendment to the sliding scale for whey value as used in the Class 4b formula.
CDI commends Secretary Ross' efforts to identify long-term solutions to forge a foundation for a strong and viable dairy industry in the future, and understands the obligation to be engaged with the rest of the dairy industry. However, dairy producers need to survive in the short-term first. The petition provides a reasonable method to bridge the current short-term economic situation of dairy producers to Secretary Ross' long-term solution for the industry.
The Secretary has 15 days to respond to the petition's hearing request. If a hearing is granted, it could be held as early as December 1.
About California Dairies, Inc.
California Dairies, Inc. is the largest member-owned milk marketing and processing cooperative in California producing 43 percent of California's milk. Co-owned by more than 420 dairy producers who ship more than 17 billion pounds of Real California Milk annually, California Dairies Inc. is a manufacturer of quality butter, fluid milk products and milk powders. In addition, California Dairies Inc. is the home of two leading and well-respected brands of butter – Challenge and Danish Creamery. California Dairies' quality dairy products are available in all 50 United States and in more than 50 foreign countries. For additional information on California Dairies, Inc., visit www.californiadairies.com.
11.06.2012