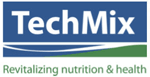 TechMix has hired Tom Stover as Business Development Manager.
Tom's experience in calling on veterinarians, livestock producers as well as conducting education and training sessions will help drive initiatives to reach sales and growth goals. Tom will be located in Omaha, Nebraska and will be focusing on the beef sector of the TechMix business with primary focus regionally in the Plains and Rocky Mountain states.
Tom was formerly with Newport Laboratories, Omaha, NE and has also held positions with Professional Veterinary Products and Fort Dodge Animal Health.
11.12.2012