VPI celebrates new chapter in company's history with custom mural in office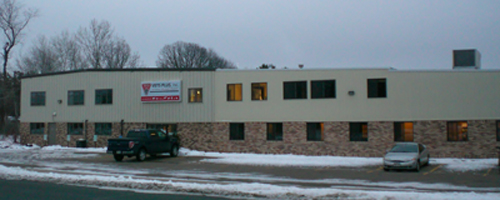 Vets Plus, Inc., manufacturer of animal health and nutrition products, has relocated to a newly renovated location at 302 Cedar Falls Road, Menomonie, WI. The facility combines the manufacturing and offices under one roof, in a space totaling over 55,000 square feet.
Vets Plus, Inc.
started in Menomonie in 1990 and moved to Knapp, Wisconsin, soon after. In 2009, the addition of a line of soft chew products exceeded the available manufacturing space in Knapp, and VPI opened an auxiliary facility in Menomonie. As the company continued to grow, moving to a larger location became necessary. "We're excited to be back in Menomonie," said Raj Lall, President and CEO of Vets Plus. "Our new facility provides us with greater production capacity and brings the team together."
Production Manager Killol Raval played a key role in the design and completion of the building's renovations. In explaining the work done on the former warehouse, Raval said, "We took the time to make sure this building would serve the company well for years to come." The production area is made up of individual rooms dedicated to a specific process. "With all the equipment moved to Menomonie now, production has resumed, and we have begun shipping product from our new facility," said Raval.
In the office entryway, local artist
Tracy Taylor
has been commissioned to paint a large mural. Taylor's etched glass surfaces, hand-painted ceramic tiles, decorative faux finishes and murals in residential and commercial spaces across the West Coast and Midwest have been featured in San Diego Décor Magazine, Chippewa Valley Parade Homes and ASID showcase homes. "Tracy's art really celebrates and highlights the success of Vets Plus," said Lall.
Lall said, "On behalf of the entire staff at Vets Plus, I would like to thank our partners for their support and look forward to our continued growth in 2013."
12.19.2012