Teat dip concentrates are an effective way to decrease transportation and distribution costs, reduce plastic container waste and cost-effectively manage a herd's udder health program. DeLaval is previewing at World Ag Expo – the largest annual agricultural exhibition in the world – its new range of on-farm dispensing systems for concentrated teat dips.
Each system is designed to dilute teat dip concentrates and dispense fresh product on demand with reliable accuracy regardless of fluctuations in water pressure. The convenience of these systems can help save time and labor – and potentially reduce the footprint of teat dip product at the dairy.
"DeLaval dispensing systems are a great example of sustainable dairy farming in action," said Clyde Olmstead, Marketing Manager of Aftermarket Solutions for DeLaval Inc. "Not only do the systems help improve on-farm management practices by eliminating manual mixing of teat dip concentrates, but they reduce the amount of water and plastic barrels being shipped to the dairy – helping farmers do more with less."
The company has developed three dispensing systems compatible with all DeLaval, Universal and West Agro teat dip concentrates:
• TD Manual Dispensing System – Perfect for small- to medium-sized dairies, this system can dilute and dispense up to two teat dip concentrates simultaneously. Use it during milking to fill cups or small containers with fresh product on demand.
• TD Automatic Dispensing System – Great for medium to large dairies requiring an efficient way to dilute teat dip concentrates. This "pump-to-gun" system can dispense ready-to-use product from up to 200 ft away to sprayers or foamers in the parlor.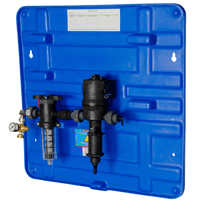 • IodoZyme Dispensing System – Exclusively developed for IodoZyme, a premium West Agro pre-dip, this "pump-to-gun" dispensing system delivers fresh, reliable product from up to 200 ft away to sprayers or foamers in the parlor.
Commercial sales of both the TD Manual Dispensing System and TD Automatic Dispensing System will commence quarter two of this year. The IodoZyme Dispensing System is currently available for purchase.
For more information, please contact: Jarl Dahlstedt Solution Manager, Milk Quality & Animal Health Jarl.dahlstedt@delaval.com
DeLaval at World Ag Expo 2013
DeLaval will display its solutions and expertise with more than 7,000 sq ft of exhibit space at World Ag Expo. Its booth in the Farm Dairy Credit Center (#6725-30) will focus on consumable solutions like liners, tubes, teat dips and silage inoculants. In two adjacent outdoor buildings (DS93-96) the company will showcase the latest in milking and herd management technology, like its VMS™ (Voluntary Milking System), parlor and rotary automation, and an automated sort gate, calf feeder and heat detection system. DeLaval will also have a booth at the Hilvers Career and Education Center (#8004) to discuss professional opportunities within the organization.
To schedule a one-on-one interview with a DeLaval expert during World Ag Expo, please contact our public relations representative at 847-393-6766.
About DeLaval
DeLaval is a leading supplier of solutions that improve the performance of farms for professional food producers. We support our customers in reducing their environmental footprint while improving food production, profitability and the well-being of the people and animals involved. We offer products, systems and services for all steps of milk production. Our solutions are used by millions of dairy farmers around the globe every day.
DeLaval was founded more than 125 years ago in Sweden, when the visionary Gustaf de Laval patented the cream separator. Today, DeLaval has 4,500 employees and operates in more than 100 markets. DeLaval, alongside Tetra Pak and Sidel, is part of the Tetra Laval Group.
02.13.2013