The Massachusetts Blue Ribbon All Breeds Calf Sale is celebrating its 10th year in 2013. The sale, which takes place at the Big E fairgrounds in West Springfield, Mass., features show prospects from all breeds from all over the Northeast. This year's event will take place Saturday, March 23, at 10 a.m., with sale cattle previewed from 6-9 p.m. on March 22.
Unlike other calf sales, the Blue Ribbon All Breeds Sale is just that – all breeds. Buyers interested in purchasing their favorite breed, those looking to branch out into a different breed, or those who just aren't sure which breed is for them – the All Breeds Sale can satisfy them all.
In the fall of 2002, a small group of Massachusetts's cattle enthusiasts started to discuss the possibilities of organizing an event that would not only make good show animals available, but offer educational opportunities as well. Carrie Chickering-Sears, Steve Woodis and Joanna Samuelson Lidback worked together and in 2003 the first All-Breeds Calf Sale was held.
That year, and in 2004 and 2005, the event was held at the University of Massachusetts barns in South Deerfield, Mass. Since 2006, it has been held on the Big E fairgrounds. Heralded as a fun, educational weekend, the sale offers youth clinics, commercial vendor booths, and numerous raffles.
Another aspect that makes this sale unique is that all the planning, executing, and finalizing of the sale is done entirely by volunteers. These include parents, present 4-H'ers, past 4-H members, and industry leaders. All proceeds go back to the Massachusetts 4-H Dairy program to help sponsor events like conferences, conventions, clinics and judging and quiz bowl contests.
"We involve 4-H youth in the calf sale all the way from the planning stages, helping to create the sale catalog, and prepping and selling the cattle," said Carrie Chickering-Sears, Director of Community Education in Animal Agriculture at the University of Massachusetts-Amherst. "Our sale is a building block for our 4-H youth to go onto chairing collegiate sales, giving them the experience to help make them successful."
Regina Grover is currently a senior at Delaware Valley College, majoring in Animal Science/Dairy and a former Massachusetts 4-H member. In 2012 she served as a co- sale chair for the Green and Gold Spring Sale at the college.
"The Blue Ribbon Calf Sale gave me the skills and set the foundation for holding this position," Grover said. "I attended the very first Blue Ribbon Calf sale ten years ago, and being just a young 4-H member, I helped out in whatever way I could."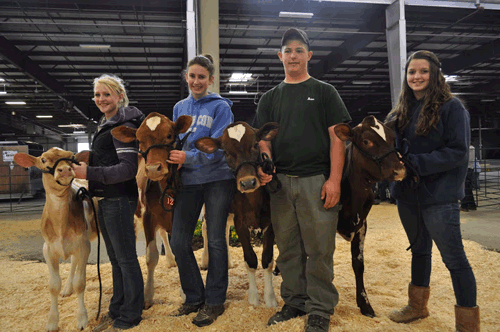 Since the first sale, she volunteered every year at the sale, becoming more involved over time. "I learned the inner workings of a dairy sale, from choosing animals to the diligent organization needed to keep everything running smoothly on sale day," she said. "This calf sale is definitely a valuable experience for Massachusetts 4-H dairy members."
Chickering-Sears added that the sale gives the state's youth help in raising funds so they can attend conferences and competitions, which may spark their interest in an agricultural career.
All youth buyers can get a 5% discount on the purchase of one calf. Consignors have come from all of New England as well as New York, Pennsylvania, New Jersey and Maryland, and buyers have come from as far away as Indiana.
Calves sold at the All-Breeds Sale have gone on to do well for their new owners. In 2005, Guernsey Dell Tiller Heart was purchased at the sale. Now classified EX-94, she was named Guernsey All-American 4-year old in 2008 and Reserve Grand Champion at the World Dairy Expo and All-American Dairy Show.
Several Jerseys and Holsteins have gone on to Excellent classifications. Many animals sold in the 2012 sale were named all-breed All-Americans or nominated All-Americans after stellar show ring careers around the country.
A web page is constantly being updated with consignments and their pedigrees and can be found at www.blueribboncalfsale.com. On Facebook, the sale can be found at http://www.facebook.com/MACalfSale.
02.22.2013