Ajinomoto Animal Nutrition Accelerates Next Generation Technology Implementation and Expands "AjiProTM-L"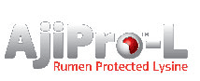 Ajinomoto Animal Nutrition Group, Inc. (hereinafter called AANG, President: Hiroaki Nomura, Head Office: Tokyo, Japan), wholly owned by Ajinomoto Co., Inc. (President: Masatoshi Ito, Head Office: Tokyo, Japan) is accelerating the implementation of the next generation technology in the USA and France to reinforce its cost competitiveness, and is expanding the production capacity of "AjiProTM-L" to respond to the growing demand in the USA. AANG is also promoting multifaceted activities for global food resource sustainability and moving forward to enhance the animal nutrition business values, based on the Mid-term Business Strategy.
1. Next Generation Technology
AANG is implementing the next generation technology - Lower Resource Fermentation Technology for L-Lysine in the USA and France, in the 2nd quarter of FY2013, the 4th quarter of FY2013, respectively. In France, AANG already launched this technology also for L-Tryptophan in August 2012. The Lower Resource Fermentation Technology is an unprecedented new technology which requires less production raw materials and energy in producing feed use amino acid products. The Ajinomoto Group has developed this innovative technology, considering the sustainability of global food resources and the environment. With this technology, AANG will also be able to decrease investment amount for capacity expansion by simplified production process. AANG is now in the middle of expanding 60,000 MT of L-Lysine and as a result, the majority of the total 400,000 MT of L-Lysine capacity will be produced by the Lower Resource Fermentation Technology. AANG already completed L-Tryptophan expansion by 1,000 MT and the total production capacity of L-Tryptophan has reached 4,000 MT per year. AANG will further reinforce its cost competitiveness and assure the supply to the growing needs of the customers.
2. New Business Development
"AjiProTM-L" is a rumen protected L-Lysine product which was launched in the USA in April, 2011. Ajinomoto's innovative technology has enabled AANG to apply it effectively for ruminants. "AjiProTM-L" is increasingly well accepted by its customers in the USA with scientifically proven data on product efficacy. AANG will expand the production capacity to meet the rapidly growing demand in the USA and continue to upgrade the bioavailability of the product to accommodate the future market potentials.
3. Global Food Resource Sustainability
In August, 2012, Specialty Feed Ingredients Sustainability (SFIS) project consortium was launched, which was led by International Feed Industry Federation (IFIF) and the EU Association of Specialty Feed Ingredients and their Mixtures (FEFANA). AANG will be working, through the SFIS project consortium activities as the project partner, to measure and establish the role of specialty feed ingredients including amino acids on the environmental impact of livestock production. The project partners are united in the goal to contribute to reduction of emissions in the food and feed chain. Ajinomoto Animal Nutrition Accelerates Next Generation Technology Implementation and Expands "AjiProTM-L"
About Ajinomoto Co.
Ajinomoto Co. is a global manufacturer of high-quality seasonings, processed foods, beverages, amino acids, pharmaceuticals and specialty chemicals. For many decades Ajinomoto Co. has contributed to food culture and human health through wide-ranging application of amino acid technologies. Today, the company is becoming increasingly involved with solutions for improved food resources, human health and global sustainability. Founded in 1909 and now operating in 26 countries, Ajinomoto Co. had net sales of JPY 1,197.3 billion (USD 15.1 billion) in fiscal 2011. For more about Ajinomoto Co., (TYO: 2802), visit www.ajinomoto.com.
For further information, please contact:
Ajinomoto Co., Inc. Public Communications Department; pr_info@ajinomoto.com
11.09.2012