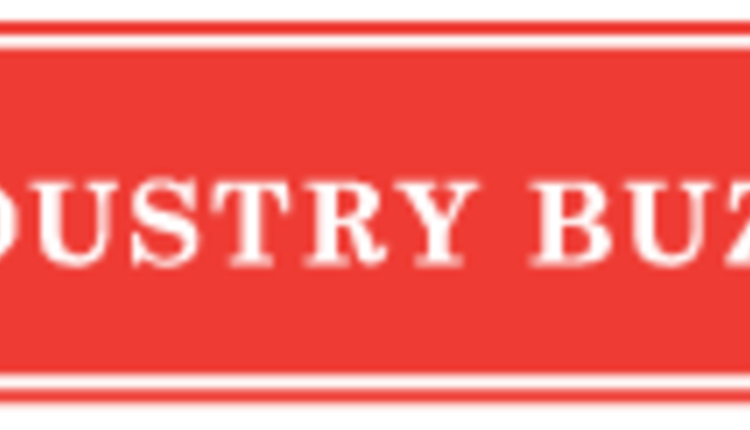 Pennsylvania Blue Halter Sale High Seller at $10,500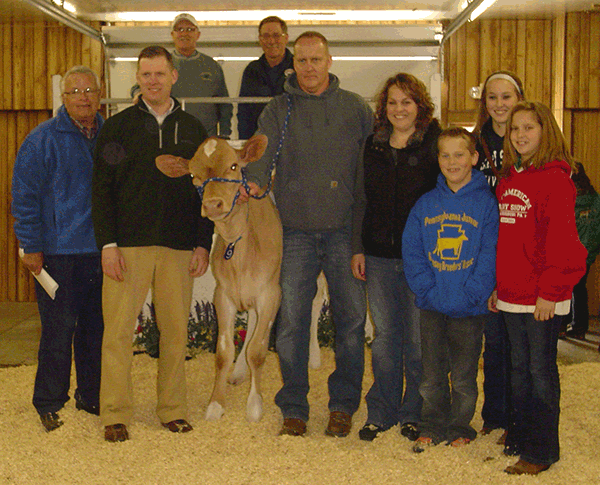 High seller:(l-r) Jim Trotter, Sale Manager; Seth Johnson representing the buyer, Dr. Joe Piskorowski;
Kevin, Dina, Kaila, Karli and Kolby Stoltzfus, consignors. In the box Mike Weimer and Dave Smith.
The 2013 Blue Halter Sale on April 20, in Bedford, PA was a stunning example of the demand for top-pedigreed Registered Guernseys that lived up to their genetic potential in person. 52 animals averaged $3,893 to set a new all-time record average in this sale series. Walnut Corner Farm of Bismarck, Illinois, dispersed 14 head that averaged $4,007.
The high seller was one of the most anticipated features of the sale – the only daughter of Triple Crown winner Warwick Manor Alymos Selma. This September 2012 calf was long and flat-boned and sired by Rutter Bros Atlas Caden, a son of Showtimes Candy, EX-92. Selma, EX-92 94MS, was the All-American Jr. 3-Year-Old in 2012 after being named Grand Champion at Louisville and Reserve Grand Champion at Harrisburg. She was the Res. All-American Jr. 2-Year-Old in 2011 and boasts a VG-88 dam and 91 and 92-point 3rd and 4th dams. The calf sold for $10,500 to Dr. Joe Piskorowski of Ithaca, New York, and was consigned by Warwick Manor Farm of East Earl, Pennsylvania.
Three fancy calves sired by Millborne Tiller Fayes Fame tied for second-high honors at $7,000. Walnut Corner Farm of Bismarck, Illinois, consigned a June 2012 Fame daughter from Walnut Corner Valiant Sam Kris, EX-91. Kris made over 24,000M and 1,000F and was nominated All-American three times. The next dam, an EX Lewis, was also nominated All-American in milking form. Three more VG dams followed. The calf was purchased out of the farm partnership by Ray and Kay Lindsey of Oakwood, Ohio. They also took home a wide Adacka Jr. 2-Year-Old from Kris for $6,500. Coulee Crest LLC of Cashton, Wisconsin, sent a pair of calves that sold for $7,000. A December 2012 Fame from a VG Challenge sold to John and Marjorie Kuszlyk of Batavia, New York. Her dam, who made 28,000M and 1,400F is a full sister to two-time Madison Junior Champion Chall Jeanie. The granddam of the calf is an EX-90 Skipper with 1,300F and over 100,000M. Foggy River Dairy of Columbus, Wisconsin, took home a September 2012 Fame from an EX-90 Spider that made over 23,000M and 1,100F. The dam was the Res. Int. Champion of the 2012 Wisconsin State Show and is backed by a VG-87 Regis, an EX-91 Billy Jo and another EX dam.
The sale was managed by Pennsylvania GBA with Jim Trotter making selections. Mike Weimer called the sale while David Smith made pedigree announcements. Dave Trotter, Jim Trotter and Blaine Crosser took bids from the huge crowd. Chris Reichard headed a fitting crew that had the lineup looking superb as they entered the ring. John and Patty McMurray clerked the sale.
Animals Selling over $2500:
Warwick Manor Caden Sexy (09/12) $10,500
Sire: Rutter Bros Atlas Caden
B: Dr. Joe Piskorowski, Ithaca, NY
C: Warwick Manor Farm, East Earl, PA
Walnut Corner Fame Kay (6/12) $7000
Sire: Millborne Tiller Fayes Fame
B: Ray & Kay Lindsey, Oakwood, OH
C: Walnut Corner Farm, Bismarck, IL
Coulee Crest Fame Jayden (12/12) $7000
Sire: Millborne Tiller Fayes Fame
B: John & Marjorie Kuszlyk, Batavia, NY
C: Coulee Crest LLC, Cashton, WI
Coulee Crest Fame Taryn-ET (9/12) $7000
Sire: Millborne Tiller Fayes Fame
B: Foggy River Dairy, Columbus, OH
C: Coulee Crest LLC, Cashton, WI
Walnut Corner Kojack Mya (3/10) $6900
Sire: Dix Lee Tiller Kojack-ET
B: Ray & Kay Lindsey, Oakwood, OH
C: Walnut Corner Farm, Bismarck, IL
Walnut Corner Adacka Kristen (6/11) $6500
Sire: Sniders Deemand Adacka-ET
B: Ray & Kay Lindsey, Oakwood, OH
C: Walnut Corner Farm, Bismarck, IL
Land of Living L Adorable (10/11) $6200
Sire: Land of Living L Laredo
B: Foggy River Dairy, Columbus, OH
C: Walnut Corner Farm, Bismarck, IL
Hi Field Big Ben Blossom (9/07) $6000
Sire: Hi Field Major Big Ben
B: Alicia McDonald, Imler, PA
C: Amy Guyer, Derry, PA
Pine Grove Yogi Ritzy (12/12) $6000
Sire: Edgewater Meadows Yogibear-ET
B: Elsie Wolff, Quarryville, PA
C: Reuben Miller, Sugarcreek, OH
Walnut Corner Laylas Ace Mia (06/06) $5700
Sire: Land of Living Ace Lenny-ET
B: Snider Homestead, New Enterprise, PA
C: Walnut Corner Farm, Bismarck, IL
Coulee Crest Fame Larissa-ET (9/12) $5600
Sire: Millborne Tiller Fayes Fame
B: Kathy Aker, Nelliston, NY
C: Coulee Crest LLC, Cashton, WI
Sniders Jackpot Ann (4/11) $5300
Sire: Springhill Jackpot-ET
B: Foggy River Dairy, Columbus, OH
C: Gable & Lindsey, New Enterprise, PA
Coulee Crest Pie Julie-ET (3/13) $5200
Sire: Indian Acres American Pie
B: Melinda Rushing, Yukon, OK
C: Coulee Crest LLC, Cashton, WI
Sniders Lone Star Maggie (12/11) $4600
Sire: Springhill J Lone Star-ET
B: Alicia McDonald, Imler, PA
C: Walnut Corner Farm, Bismarck, IL
Hi Field Skyfame Clover (9/12) $4500
Sire: Balmoral Skipper Skyfame
B: Ron Reidel, Winfield, PA
C: Hi Field Farm, Derry, PA
Solid Gold Yogi Bieber (12/12) $4500
Sire: Edgewater Meadows Yogibear-ET
B: Amber Kirk, Peach Bottom, PA
C: Kali Miller, Carlton, PA
Adams Creek Mario Astella (9/12) $4500
Sire: Adams Creek Vigilant Mario
B: Amber Kirk, Peach Bottom, PA
C: Steve & Debbie Nuttleman, Bangor, WI
Sniders Mist M Rebel Ryann (5/10) $4400
Sire: Sniders Challenge Rebel
B: John & Marjorie Kuszlyk, Batavia, NY
C: Walnut Corner Farm, Bismarck, IL
Coulee Crest Geo Lara-ET (9/11) $4200
Sire: Golden J Les George
B: Jeff Biddle, Boalsburg, PA
C: Eric Craig & Dr. Peter Khoury, N. Bangor, NY
Mar Shirl Carter Honda (7/12) $3800
Sire: Edgewater Meadows Yogibear-ET
B: Judy Whalen, Millbrook, NY
C: Cindy Bender, Accident, MD
Donnybrook Les Saturn (9/09) $3650
Sire: Flambeau Manor Tiller Les-ET
B: Cassandra Musser, Enon Valley, PA
C: Eric Craig & Dr. Peter Khoury, N. Bangor, NY
Trotacre AP Hunter-ET (6/12) $3600
Sire: Indian Acres American Pie
B: Lavon Farms, Emory, TX
C: Trotacre Farm, Enon Valley, PA
Maple Bottom Aaron Minutemaid-ET (9/12) $3600
Sire: Sniders Option Aaron-ET
B: Don & Marion Eberhard, Mechanicsburg, OH
C: Shelby Hawkins, Scottdale, PA
Coulee Crest AP Juliette-ET (3/13) $3500
Sire: Indian Acres American Pie
B: Pete Leise, Greenville, PA
C: Coulee Crest LLC, Cashton, WI
Sniders Rebel Angelic (12/12) $3200
Sire: Sniders Challenge Rebel
B: Amber Kirk, Peach Bottom, PA
C: Snider Homestead, New Enterprise, PA
GR-Ealy Highland Queenann (12/12) $3200
Sire: Sniders Ronald Alstar
B: Lavon Farms, Emory, TX
C: Dan & Sherry Ealy, Sharpsville, PA
Coulee Crest Nick Lottie-ET (6/12) $3150
Sire: Lang Haven Tiller Nick-ET
B: Kaila Stoltzfus, East Earl, PA
C: Coulee Crest LLC, Cashton, WI
Ripley Farms Geo Cherry-ET (3/12) $3100
Sire: Golden J Les George
B: Jamie Trotter, Enon Valley, PA
C: Eric Craig & Dr. Peter Khoury, N. Bangor, NY
Hi Field Jackpot Princess (12/12) $3000
Sire: Springhill Jackpot-ET
B: Roland Dicke, Bremen, IN
C: Hi Field Farm, Derry, PA
Mt Ararat Yogibear Julianne (3/12) $3000
Sire: Edgewater Meadows Yogibear-ET
B: Lavon Farms, Emory, TX
C: Mt. Ararat Farm, Port Deposit, MD
Walnut Corner Brando Kristy (3/10) $3000
Sire: Sniders Adacka Brando
B: Earl Lindsey, Bismarck, IL
C: Walnut Corner Farm, Bismarck, IL
Sniders Arrington Karolin (5/11) $2800
Sire: Sniders Money Arrington
B: Elizabeth Roedl, Edgewood, IL
C: Snider Homestead, New Enterprise, PA
Sniders Brando Ajaz (3/09) $2800
Sire: Sniders Adacka Brando
B: Trotacre Farm, Enon Valley, PA
C: Snider Homestead, New Enterprise, PA
GR-Rocky Hill Ludwig Denver (3/11) $2600
Sire: Rutter Bros Tillers Ludwig-ET
B: Cassandra Musser, Enon Valley, PA
C: Andrew McCarty, Hughesville, PA
Walnut Corner Kringle Kiss (6/12) $2600
Sire: Chupps HIllpoint GDust Kringle-ET
B: David Dallam, Bel Air, MD
C: Walnut Corner Farm, Bismarck, IL
Walnut Corner Mentor Kora (8/10) $2600
Sire: Mar Ral Royal Mentor
B: John Fendrick, Germantown, MD
C: Lindsey & Gable, New Enterprise, PA
Cloverdale Jackpot Honey (6/12) $2500
Sire: Springhill Jackpot-ET
B: Jerry Lambrecht, Lebanon, IN
C: Joe Walker, Meyersdale, PA
Millborne Geo Nicole (7/12) $2500
Sire: Golden J Les George
B: Hadley Palmerton, Delavan, NY
C: P. Morey Miller, Granby, CT
Walnut Ridge Sizzle Lady Ga Ga (12/12) $2500
Sire: Knapps Challenge Sizzle-ET
B: Kenneth Sherman, Sunbury, OH
B: Walnut Ridge Farm, Middletown, MD
4.25.2013