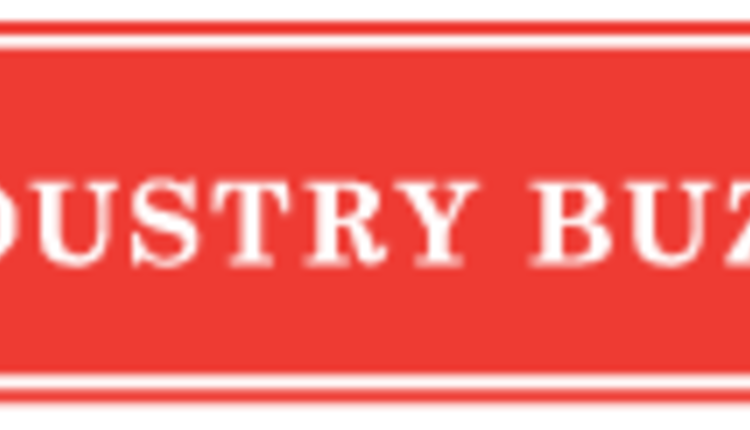 Net Income Increased 10 Percent to $563.6 Million for the Year Ended Dec. 31, 2013

Today St. Paul-based
AgriBank
announced strong financial results for the fourth quarter and full year 2013 with continued growth in net income, strong credit quality and robust liquidity and capital.
Highlights:


Net income continues to grow: Net income rose 10 percent to $563.6 million for the year ended Dec. 31, 2013, driven primarily by gains in net interest income. Net interest income was $523.8 million, compared with $483.9 million for 2012.

Credit quality remains strong: Loan portfolio credit quality remains strong, as loan loss provisions decreased by $11.4 million and non-adverse loans stood at 99.8 percent.

Liquidity and capital remain robust: Cash and investments totaled $13.5 billion at year-end, compared with $12.1 billion at the end of last year. End-of-the-period liquidity was 161 days, well above the regulatory requirement. Capital increased $665.5 million from the prior year-end to $4.9 billion.

Preferred stock issuance: On Oct. 29, 2013, AgriBank issued $250 million in non-cumulative perpetual preferred stock to enhance its strong capital base.
"Continued strong performance of the overall ag economy helped drive near-record earnings for AgriBank in 2013," said Bill York, AgriBank CEO. "Loan growth and credit quality remained solid, although we expect both to moderate in 2014, as commodity prices for corn, soybeans and wheat have moderated and reverted to average levels from recent highs. Producers and processors are well-positioned to adapt to the changing market cycle, and AgriBank has ample liquidity and capital in place to help our District meet the long-term credit needs of farmers, ranchers and other eligible borrowers."
Year-End 2013 Results of Operations
Net income rose 10 percent to $563.6 million for the year ended Dec. 31, 2013, up from $514.2 million for 2012.
Net interest income drove substantially all of this increase, rising to $523.8 million, compared with $483.9 million for 2012. Net interest income remains strong and reflects the positive impact of our funding actions as well as the increased volume of fixed rate loans.
Loan loss provisions decreased due to loan loss reversals of $4.0 million for the year ended Dec. 31, 2013, primarily due to the reversal of specific reserves and subsequent recoveries on a participated credit.
Non-interest income decreased 5 percent to $146.3 million from $153.7 million in 2012. The decrease was primarily due to $15.0 million of non-recurring refunds received during 2012 from the Farm Credit System Insurance Corporation. This was partially offset by non-recurring losses on hedging ineffectiveness related to interest rate swaps recorded during 2012.
Non-interest expense decreased 5 percent to $110.6 million from $116.0 million in 2012. Net impairment losses on investments have declined significantly from $25.5 million in 2012 to $1.9 million in 2013. This was partially offset by increases in salaries and employee benefits and other operating expenses.
Fourth-Quarter 2013 Results of Operations
Fourth-quarter 2013 net income was strong at $142.7 million, compared with $129.4 million for the same period of 2012. The increase was primarily due to the increase in net interest income, reversal of loan losses and reduced net impairment losses on investments.
Loan Portfolio
Total loans increased 6 percent year-over-year to $73.7 billion, primarily due to increases in wholesale loans to Associations, which funded increased real estate mortgage lending for cropland. In addition, loans grew due to funding of increased loan participation interests in retail equipment financing originating from the AgDirect program. The strong liquidity and equity positions of many borrowers are reflected in the continued favorable credit quality of AgriBank's loan portfolio. The portfolio had 99.8 percent non-adverse loans at year-end, a slight improvement from 99.7 percent a year earlier. Nonaccrual loans at year-end declined to $39.7 million in 2013 from $51.4 million in 2012, while the allowance for loan losses at year-end dropped to $10.1 million from $13.3 million.
The significant majority of U.S. corn and soybean production occurs within the AgriBank District. The 2013 harvest produced the largest corn crop on record and third-largest soybean crop. Commodity prices for corn and other feed grains and, to a lesser extent, soybeans, have retreated substantially from levels in early 2013. The impact of the 2012 drought had no material effect on the asset quality of the loan portfolio due to crop producers' high utilization of multi-peril crop insurance. AgriBank's overall strong financial performance reflected a continued robust Midwest farm economy buoyed by favorable growing conditions and strong crops in 2013. The February 11, 2014 U.S. Department of Agriculture Economic Research Service report projects 2013 U.S. net farm income of $130.5 billion, up 14.7 percent from 2012 and the highest level since 1973, when adjusted for inflation. The USDA projects net farm income to fall 26.6 percent in 2014 to $95.8 billion, the lowest level since 2010 but $8 billion above the previous 10-year average. The forecasted decrease in net farm income is largely driven by expected lower crop receipts and a projected 45 percent decline in government payments under the Agricultural Act of 2014.
Lower commodity prices for soybeans, and especially corn, are expected to substantially reduce the profitability of crop producers in 2014. However, most of these producers have built strong financial and liquidity positions from recent profitable years. Conversely, producers and processors who purchase these commodities as inputs should perform better in 2014 due to lower costs.
Liquidity and Capital Resources
Cash and investments totaled $13.5 billion at year-end, compared to $12.1 billion at the end of last year. The Bank's end-of-the-period liquidity position represented 161 days coverage of maturing debt obligations, well above the 90-day minimum established by the Farm Credit Administration, the Bank's independent regulator.
Total capital increased $665.5 million during the year to $4.9 billion, driven primarily by earnings of $563.6 million and the issuance of preferred stock of $250 million, partially offset by $335.1 million in patronage to Associations.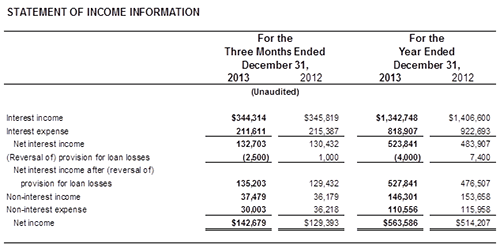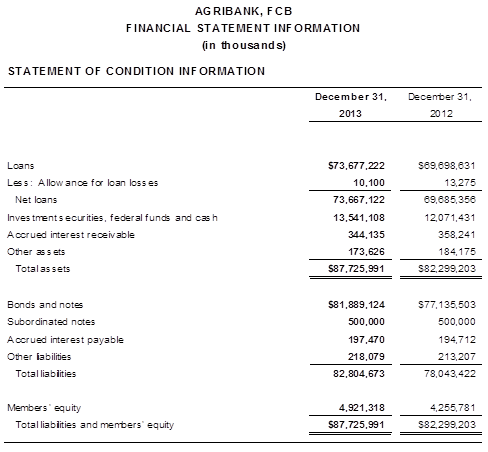 About AgriBank
AgriBank is one of the largest banks within the national Farm Credit System, with more than $85 billion in total assets. Under the Farm Credit System's cooperative structure, AgriBank is owned by 17 affiliated Farm Credit Associations. The AgriBank District covers America's Midwest, a 15-state area stretching from Wyoming to Ohio and Minnesota to Arkansas. More than half of the nation's cropland is located within the AgriBank District, providing the Bank and its Association owners with exceptional expertise in production agriculture. For more information visit www.AgriBank.com.
Return to Industry Buzz.
2.28.2014