B D C A
is my placing for this class of Brown Swiss cows. With her angularity, style and balance from end to end, B sorts herself to the top of the class. B gets the nod over D because B is a much longer cow from end to end. B has an advantage in the mammary system being higher and wider in her rear udder. Additionally she has a more desirable teat size and shape than D. Furthermore, B shows a more correct set to her hock when compared to D. B also has a more correct thurl placement and shows more width than does D. I do recognize D is longer in her head and neck and is smoother blending from her neck to her shoulder.
In my close middle pair, D places over C with her advantage in mammary system. D shows more strength and height of rear udder cleft than C. D is also longer and more nearly level on her udder floor and carries a fore udder that blends more smoothly into her body wall. Additionally, D exhibits more depth and openness of rib. I do admit C is cleaner through her hips and pins and more incurving in her thigh.
C quite logically goes over A for the final placing. C is much more angular throughout being sharper at her withers and down her topline. Furthermore, C has a definite advantage in mammary system. She carries her udder higher above the hock and is higher and wider in her rear udder. Additionally, C has an advantage in rear feet and legs, being much cleaner through the hock and stepping down on a stronger heel. Granted, A displays more depth and width of heart than C.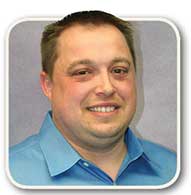 Ryan Weigel
Platteville, Wis.
Weigel placed the
BROWN SWISS.
A sire analyst for Accelerated Genetics, Weigel procures high-quality genomic young sires. Previously, he served as dairy cattle show manager for World Dairy Expo. Ryan, along with his brother Cory, coaches the University of Wisconsin-Platteville dairy judging team, and he has judged dairy cattle shows in Minnesota, Illinois, Iowa, Wisconsin and Japan. Weigel is co-owner of KHW Genetics together with Ryan Kamps and bred KHW Regiment Advent-Red a six-time Premier Sire at World Dairy Expo and KHW Kite Apple-Red, the 2011 Grand Champion Red & White at World Dairy Expo.
---
SCORING KEY
Click here to see more classes in the 2015 Cow Judging Contest.