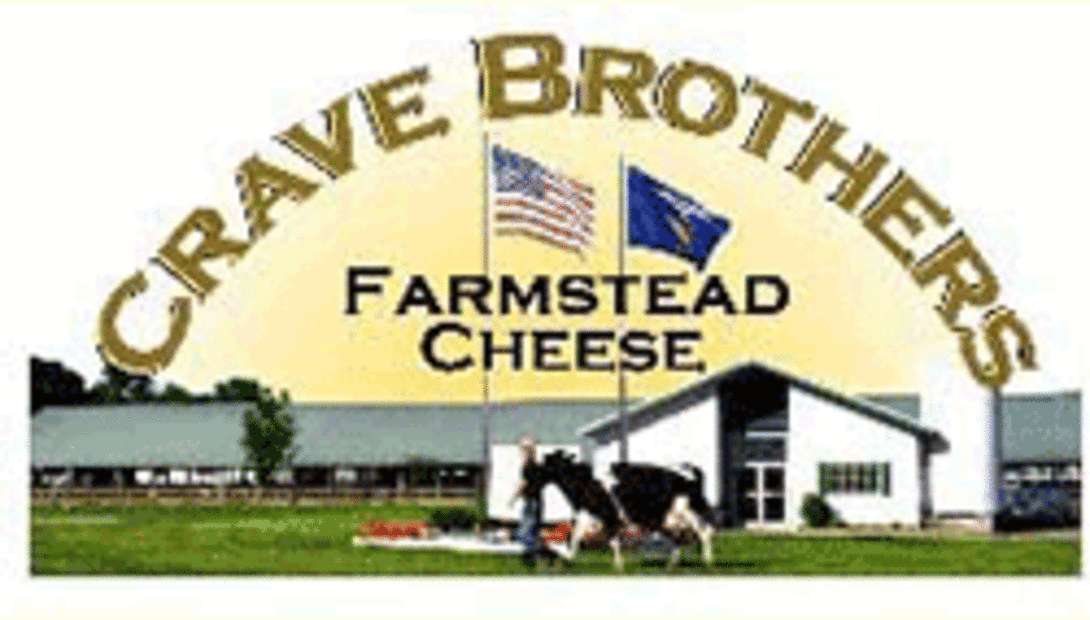 Maybe it's time to add Mascarpone cheese to the list of romantic Valentine's Day fare along with standards like oysters and chocolate. After all, award-winning Crave Brothers Farmstead Classics Mascarpone cheese adds a sweet, creamy, luxurious note to recipes. If you've decided to spend Valentine's Day at home with a cozy meal for two, or a mood-setting cocktail get-together, Mascarpone makes it easy to luxuriate and celebrate.
Recipes incorporating Crave Brothers Mascarpone allow you to show off your creativity with marriage-made-in-heaven appetizers such as Olive and Mascarpone Dip and Mascarpone, Fig, Sweet Onion and Candied Bacon Pizza. The dip is a simple blend of frozen spinach, mascarpone, grated Parmesan or Asiago, chopped olives and the juice of one lemon. The rich pizza recipe starts with ready-made pizza dough, and features creamy Crave Brothers Mascarpone.
Warm up your dinner celebration with creamy soups, including Salmon and Shellfish Chowder with Crave Brothers Mascarpone Fumet-a recipe that shows off the shellfish of your choice. The fumet (a concentrated seafood stock) starts with shallots, garlic, clam juice and white wine with Crave Brothers Mascarpone whisked into the mixture. The fumet is flavored with tarragon, lemon pepper, cayenne and fresh lemon juice, and then thickened with cornstarch and gelatin powder.
What's Valentine's Day without indulgent desserts? If you're the whimsical type, consider red and white dessert ideas such as Mascarpone Filled Strawberries or Red Velvet Mascarpone Whoopie Pies filled with a mixture of heavy cream, Crave Brothers Mascarpone and melted, finely chopped white chocolate.
On the other hand, if you prefer traditional sweet endings, Mascarpone is the perfect partner for chocolate. Simply sensational ideas featuring Crave Brothers Mascarpone include Buttery Bittersweet Mascarpone Truffles, Chocolate-Espresso Truffle Cupcakes with Mocha Mascarpone Frosting and the Crave Brothers signature Chocolate Mascarpone Pie with its three-ingredient filling of Mascarpone, melted semisweet chocolate and 2 Tablespoons of Kahlua or Amaretto.
Mascarpone Truffles are a combination of bittersweet and milk chocolate with heavy cream, Mascarpone, a splash of liqueur and finely grated pecans or walnuts. To take rich cupcakes to the next level, top them with Mocha Mascarpone Frosting made with unsweetened cocoa powder, instant espresso powder, chilled whipping cream, sugar and Crave Brothers Mascarpone.
All told, Crave Brothers Mascarpone has earned more than two dozen awards in regional, national and international cheese competitions. Crave Brothers Farmstead Classics, including Mascarpone, are made with milk from the Crave family's dairy herd. The farmstead cheese-making facility uses 100% green power, and practices water conservation and recycling. For product information and the complete recipes mentioned here, visit the Crave Brothers website:
www.cravecheese.com
The Crave family farms 2000 acres of rich land in south-central Wisconsin, growing soybeans, corn and alfalfa to use as nutritious feed for their Holstein cows. From the manure digester to water recovery, sustainability is top-of-mind on the farm. Every pound of cheese made by George Crave, a licensed cheese maker, is made with milk from the family's herd.
Return to Industry Buzz.
1.27.2016