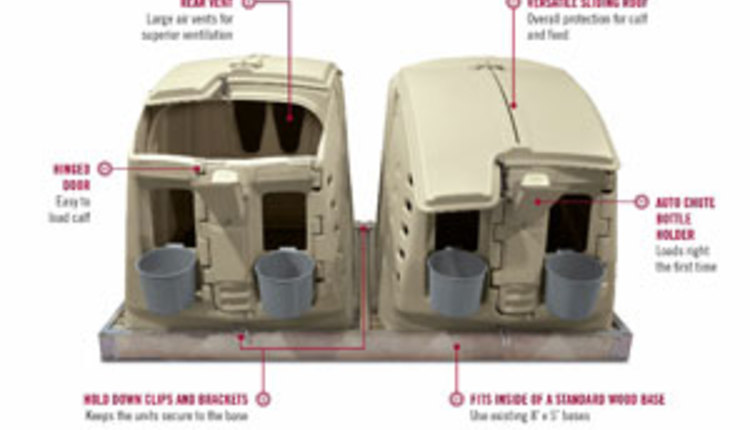 Hampel Animal Care introduces the Calf-Tel ECS, an enhanced calf housing system that provides superior protection for calves in the worst weather conditions – from blizzards to heat waves.
"In addition to providing superior protection from the elements, the Calf-Tel ECS was developed to improve calf health and give calf and heifer raisers a preferable solution to wood calf housing, traditionally seen in the west," says Brian Wesemann, director of sales with Calf-Tel.
Features of the Calf-Tel ECS include:



Made entirely from plastic for increased durability, minimal maintenance and easy cleaning and disinfecting


Versatile sliding roof panel protects calves and feed from the elements and offers shade


Back vents to adjust ventilation based on weather conditions


Hinged front door for easy calf loading and access


Calves are separated for increased biosecurity


Fits inside of a standard 8' x 5' wood base and provides more room for the calf


Hutch and roof designed to channel rain off to the side, keeping the pen area drier


Auto chute bottle holder loads right the first time


Self-hanging pails
"Made from plastic, the new ECS provides calf and heifer raisers with the opportunity to properly clean and disinfect the pen, reducing potential mortality and morbidity rates compared to calves raised in wood housing that cannot be disinfected," says Wesemann.
For more information on the Calf-Tel ECS or the Calf-Tel line of products, visit
www.Calf-Tel.com
or call (262) 255-4540 or email: sales@calftel.com.
Hampel Animal Care, a division of Hampel Corporation, began serving the agriculture industry in 1981 with the introduction of Calf-Tel housing systems. Today it is the number one choice for calf housing, worldwide. For more information, visit
www.Calf-Tel.com
or learn more at
www.facebook.com/calftel
and
www.youtube.com/calftel
.
Return to Industry Buzz.
2.16.2016