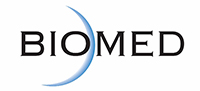 Biomed Diagnostics, Inc. just launched its website for P4 Rapid-a new cow fertility product for the U.S. dairy industry. Biomed partnered with Ridgeway Science, a division of Ridgeway Research in the U.K., to bring this product to the United States.
The site-
www.p4rapidusa.com
-shows how herd owners specifically benefit from P4 Rapid and includes an in-depth video on how easy it is to use the product. P4 Rapid helps identify the fertility status of any healthy lactating cow in only 5 minutes.
Before P4 Rapid, artificial insemination success rates averaged only around 30% in the U.S. due to the lower effectiveness of the current estrus identification methods. P4 Rapid represents a significant milestone and a dramatic paradigm shift from the slow and expensive testing used in the dairy breeding community. Owners currently dedicated to heat observation or electronic activity monitors will find that P4 Rapid intuitive cow-side, lateral flow design delivers accurate, near instant results through a simple visual reaction. Additionally, P4 Rapid very quickly becomes useful, as its intuitive cow-side, lateral flow design requires no special skills or training to use.
"We've been hearing from herd owners and they can't believe how identifying fertility status can be so easy with P4 Rapid. A quick visit to our new website shows them how easy it is to use and gives them all the information they need to get going with P4 Rapid!" Eli Beard, Biomed Diagnostics Marketing and P4 Rapid Product Manager, stated.
-Ridgeway Science, a division of Ridgeway Research, located in St. Briavels Gloucestershire, UK est. 1986, provides products and services to veterinary productivity in the form of pharmaceutical testing and veterinary diagnostic research and development. In business since 1986, their products are used throughout Europe, Asia, the Near East, and India.
-Biomed Diagnostics, Inc. est. 1989 in White City, Oregon is a boutique designer and manufacturer of FDA listed and cleared human devices, as well as veterinary, and environmental test kits sold under the trade names InPouch™ and InTray™, sold through distribution around the world. Biomed has served the U.S. beef production community with the globally accepted InPouch™ TF Bovine diagnostic kit for USDA overseen organism Tritrichomonas foetus.
Return to Industry Buzz.
3.21.2016