Purina Animal Nutrition announces the hiring of Andre Pereira, DVM, Ph.D., as a nutrition software support specialist on the dairy technical services team.
Pereira got his start in the agricultural industry working as a veterinarian in Brazil focusing on herd health, reproduction and nutrition. His interest in how nutrition can impact animal health led him to pursue his master's degree in animal science at Louisiana State University where he studied nitrogen efficiency in late lactation cows. Pereira received his Ph.D., in animal and nutritional sciences from the University of New Hampshire.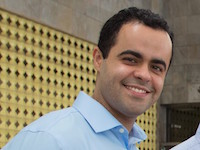 "We strive to do what's best for animals by providing farmers tools to feed them based on sound scientific research," says Dari Brown, Ph.D., Sr. director of livestock and lifestyle technical services at Purina Animal Nutrition. "Pereira's passion for animal nutrition and its potential impact on dairy cow health and production will help us continue to bring solutions to our customers."
Pereira's work will directly contribute to the continuous improvement of nutrition solutions. More than 24,000 studies have been conducted at the Purina Animal Nutrition Center, and tens of thousands of ingredients and nutrient combinations have been evaluated to create the best animal feed. This is just scratching the surface of understanding all the ways proper nutrition contributes to efficiency, productivity, longevity and health of animals.
"New improvements are constantly being made in nutrition, and I am excited to contribute to these successes," says Pereira.
For more information, call (800) 227-8941 or go to
www.purinamills.com/dairy-feed
.
Purina Animal Nutrition LLC (
www.purinamills.com
) is a national organization serving producers, animal owners and their families through more than 4,700 local cooperatives, independent dealers and other large retailers throughout the United States. Driven to unlock the greatest potential in every animal, the company is an industry-leading innovator offering a valued portfolio of complete feeds, supplements, premixes, ingredients and specialty technologies for the livestock and lifestyle animal markets. Purina Animal Nutrition LLC is headquartered in Shoreview, Minn. and a wholly owned subsidiary of Land O'Lakes, Inc.
Return to Industry Buzz.
7.26.2016