Dairy Quality Inc., the creator of the RT10 milk testing device for the iPod
®
touch, announced the release of Dairy Health Check.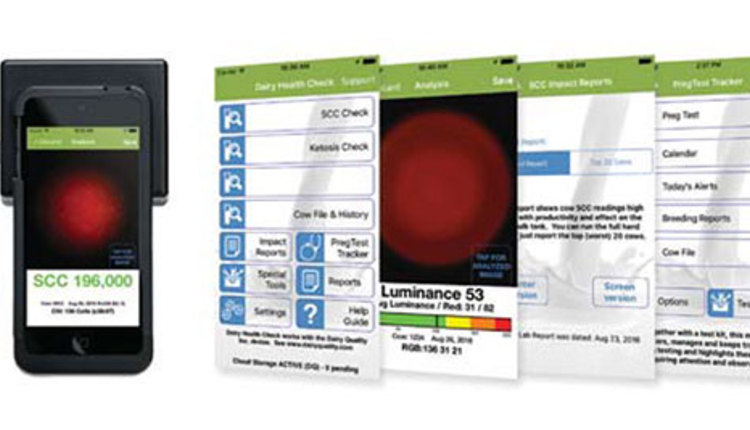 This powerful all-in-one device uses the latest advances in mobile microscopy combined with Dairy Quality's somatic cell count (SCC) and ketosis testing slides and the SCC Check and Ketosis Check apps, giving dairy farmers the information they need to reduce negative impacts on their herd health and milk production. "Ketosis Check will help farmers detect subclinical and clinical ketosis so they can manage the energy levels of their cows immediately after calving and correct nutrition deficiencies to reach peak milk production levels," says Gary Jonas, President of Dairy Quality Inc. He adds, "And, we've received such a positive response to SCC Impact Reports, adding a secondary data aggregation and event scheduling tool for tracking breeding information, PregTest Tracker, was a natural progression." In the PregTest Tracker, dairy farmers can manually record the cow's pregnancy test results to generate veterinary testing, calving, and dry-off dates with automatic reminder alerts. With the SCC Impact Report, they can compile the data from only the cows with the highest SCC, or their entire herd, to determine which cows have the most impact on bulk tank somatic cell count averages. "This is just the beginning of the Dairy Health Check's evolution into a complete milk testing device. We're continuously investing in research and development to ensure lab-accurate results, and powerful data collection and aggregation. Our goal is to give farmers a mobile device to manage all of their herd health data and records in one place," says Chris Gans, Director of Sales and Marketing at Dairy Quality Inc. Recent testing at the University of Guelph revealed the accuracy of the Dairy Health Check to be within 97 percent correlation with most international dairy SCC lab testing. The Dairy Health Check is available for sale through Dairy Quality's dealer network and online on September 30, 2016. For more information, visit
www.dairyquality.com
or call +1 (855) 232 4797.
About Dairy Quality Inc.

Founded in 2012, Dairy Quality Inc. is the global leader in mobile microscopy and optics providing conventional and organic dairy farmers with innovative mobile-based technologies that encompass rapid somatic cell count (SCC) and ketosis testing protocols for all types of milk. The patent-pending technology allows dairy farmers to accurately and instantly test the health of individual cows and the milk in their bulk tanks.
10.14.2016