The information below has been supplied by dairy marketers and other industry organizations. It has not been edited, verified or endorsed by Hoard's Dairyman.

Six employees of Genex Cooperative, Inc. were recently recognized by the National Association of Animal Breeders for sales and service achievements.
Genex territory sales managers Jan Longacre of Geneseo, New York; Jim Cumming of Madison, Georgia (now retired); Bill Casey of River Falls, Wisconsin; and James Engle of Shoshone, Idaho, each earned an award for reaching 1 million units of bovine semen sold. Doug Westenbroek of Ontario, California, earned recognition for reaching the 3.5 million unit sales level. Genex representative George Shue was the recipient of a service award for completing 100,000 first artificial insemination services.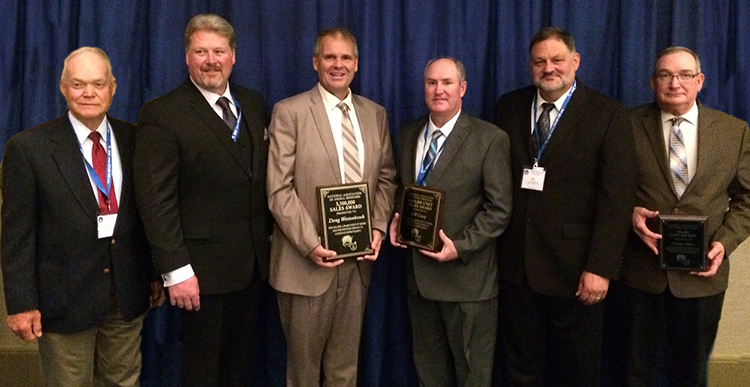 Genex employees earning NAAB sales and service achievement awards include
(l to r) Jim Cumming, Jim Engle, Doug Westenbroek, Bill Casey, Jan Longacre and George Shue.
"While these awards refer to sales and service achievements, they also are indicative of the individual's professionalism and their dedication to Genex members and customers," explains Keith Heikes, Genex COO. He goes on to say, "These individuals earned these awards because they work hard every day to meet the needs of the Genex members and customers they serve." To learn more about Genex and the products and services offered, visit
http://genex.crinet.com
or contact customer service at 888-333-1783.
About Genex
Genex Cooperative, Inc., headquartered in Shawano, Wisconsin, is the trusted provider of world-class animal genetics, progressive reproductive solutions, value-added products and innovative services to members and customers across the U.S. This is accomplished through 950 dedicated employees working in three product and service segments: cattle genetics and reproduction, livestock marketing, and milking and farmstead equipment. Genex is a subsidiary of Cooperative Resources International. Learn more at http://genex.crinet.com.