The information below has been supplied by dairy marketers and other industry organizations. It has not been edited, verified or endorsed by Hoard¹s Dairyman.

Taming the effects of heat stress and improving dairy group management recently become even more user-friendly—thanks to the Heat Stress and Group Monitoring Module from SCR Dairy. This new herd management tool can be found within the SCR Heatime® Pro and Heatime HR-LD systems, and was rolled out with SCR Dairy's recent software upgrade.

"Thanks to our new tags with enhanced capabilities and updated software, the heat stress and group monitoring module accurately helps dairies evaluate, identify and manage daily and seasonal trends to implement heat abatement strategies, such as environmental cooling, ration changes, feed supplements and more," explains Tom Breunig, SCR Dairy general manager. "These actionable data mean dairies can move swiftly to counteract some of their most serious productivity challenges, while enhancing animal well-being and improving cow care."
The awards committee for the Dairy Herd Management Innovation Awards was so impressed with its abilities; the module was named one of the 10 award winners for 2016 during World Dairy Expo last month. Nominated products are evaluated by a panel of producers, industry insiders and university experts.

The tool uses daily data for panting, rumination, eating and temperature and Humidity Index (THI) as indicators for heat stress. It offers an early warning for potential challenges, allowing users to stage timely interventions to avoid the costly effects of heat stress. It offers dairies peace of mind though 24-7 cow monitoring—users know the status of every cow, anytime.

In addition, the module provides the opportunity to:
Minimize lost production through early detection of health risks.
Measure cow response to nutrition and ration changes.
Integrate information with dairy management and milk yield software.
Improve labor efficiency by providing framework for individual cow management at any scale.
Reduce cow stress with lower lock-up times.
Improve conception by accurately identifying estrus and breeding windows.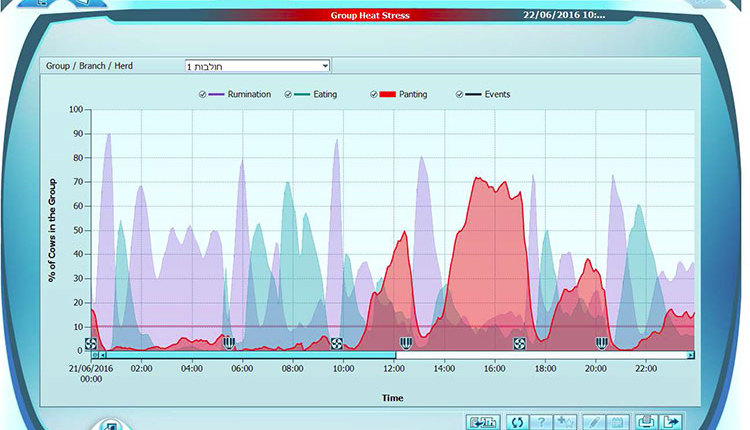 This graph shows the negative influence heat stress has on dairy cow rumination levels. Dairies can use this data to troubleshoot challenges on the dairy, identify problem areas and quickly take corrective action—in this instance cooling holding a

reas and turning on fans sooner.




"We're honored by the award, and are even more pleased to be able to bring this level of technology to our customers," says Breunig. "The increased sensitivity to and increased understanding of specific animal movements mean dairy producers have greater opportunity to hone animal management. The end result is a win for the dairy and the cows in the herd."

To learn more, visit www.SCRDairy.com.

About SCR Dairy
Building on over 35 years of meaningful innovation, SCR Dairy is the leading pioneer of Cow and Milking Intelligence. Monitoring millions of cows worldwide, our data-driven solutions are trusted by successful dairy farmers to deliver the insights and analytics needed to optimize the productivity of every cow. Improving efficiency and driving growth, we help to ensure a secure and prosperous future for their farms and families. To learn more about SCR Dairy, visit www.SCRDairy.com. SCR. Make every cow count.