The information below has been supplied by dairy marketers and other industry organizations. It has not been edited, verified or endorsed by Hoard's Dairyman.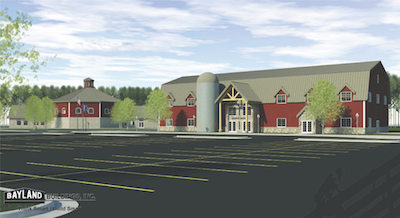 The Board of Directors of the Wisconsin Agricultural Education Center (WAEC) has announced the selection of Kim Kowieski as the Director of Operations. Kim will begin her position on December 1
st
. The center will showcase Wisconsin's agriculture industry and help the public reconnect with farmers and understand the important role producing food plays in the health of our economy, our people and our communities.
"Kowieski brings leadership and a strong business foundation to the center along with a deeply rooted passion for telling agriculture's story," stated Julie Maurer, Board President for WAEC. "With an opening of the center slated for 2018, Kowieski's focus will be on supporting the construction process as well as developing the infrastructure necessary for a successful grand opening."
Kowieski comes to WAEC from her most recent position as Quality Assurance Manager at Land O' Lakes in Kiel, WI, where she led the quality assurance function at a cheese and whey products manufacturing facility, managed a team of employees, and most recently was part of the planning and management of a major expansion project. She has received her Bachelors of Science Degree in Food Science and Technology from UW-River Falls and did Master's studies in Food and Nutritional Sciences at UW-Stout.
Kowieski grew up on her family's dairy farm in north-central Wisconsin where they also produced maple syrup and ginseng. "I learned about the importance of agriculture first hand as a child on my family's farm. I'm excited to use my experiences and passion to support this project and help people understand how agriculture impacts their own lives", said Kowieski.
Kowieski will follow the board's direction in managing the construction project over the next 18 months. In addition, she will spearhead the operational, fiscal and human resource planning for the center. She will work in collaboration with Melissa Bender who serves as WAEC's Director of Education and Marketing.
More on the Wisconsin Agricultural Education Center:
The Wisconsin Agricultural Education Center will be a state-of-the-art agricultural education center located in Manitowoc County. It will provide visitors with the opportunity to connect with the industry by better understanding where their food comes from, and why agriculture is so important to them. The center will include a discovery center that features hands-on learning opportunities through a wide variety of displays, and the exciting option to tour the Grotegut Dairy Farm, which focuses on sustainability and best farming practices while milking 2,400 cows three times a day. A highlight for visitors will be the chance to view the birth of calves from the Grotegut Dairy Farm at the Center's Birthing Barn.
To learn more about WAEC, please visit: www.BuildWAEC.org