The information below has been supplied by dairy marketers and other industry organizations. It has not been edited, verified or endorsed by Hoard¹s Dairyman.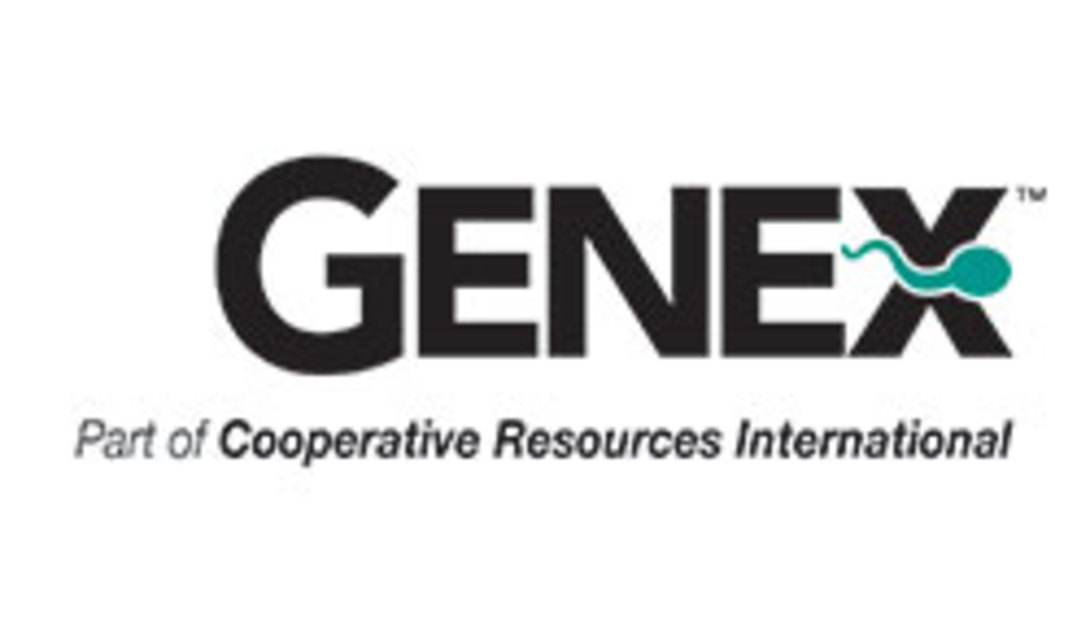 With the December sire summaries, GENEX updated the Ideal Commercial Cow (ICC$) index to further meet the needs of commercial dairy producers. The index now includes three proprietary health traits – Subclinical Ketosis (SCK), Metritis (MTR) and Foot Health (FH). While creating cows that excel in commercial dairy conditions has been the focus of the index since its 2014 debut, the new traits will enable producers to breed for even healthier animals that exhibit lower BHBA (a cause of ketosis), fewer cases of metritis and fewer foot health issues.
Leading the ICC$ index rankings this sire summary is
1HO11665 GENIUS
. This Montross out of a Robust is +1101 ICC$, +918 Lifetime Net Merit (LNM$) and +2748 TPI®. GENIUS is joined at the top of the list by maternal brothers
1HO12800 GAGE
and
1HO12782 GUINESS
at +1055 and +1051 ICC$ respectively. These sons of
1HO11056 TROY
have balanced genetic profiles offering type and production. All three also recorded impressive breeding values for SCK, MTR and FH.
1HO11955 BEYOND
stands as the highest new release at +1067 ICC$. This Josuper son has impressive health traits at +2.4 Daughter Pregnancy Rate (DPR) and +8.6 Productive Life (PL) and ranks above average for MTR and FH. Use BEYOND to add pedigree diversity and components (+127 Combined Fat & Protein).
Another Montross son,
1HO11694 MICKY
, is an elite new graduate at +1056 ICC$ and +892 LNM$. He adds Milk (+1686) and impressive +165 Combined Fat & Protein (CFP). With a +6.0 PL, +1.4 DPR and 6.6% Sire Calving Ease (SCE), this sire is suitable for heifer pens.
TROY now has early daughters in his production proof and maintains his ideal combination of elite genetics and fertility. One of the first sires selected for based on his ICC$ value, he continues to rank near the top of the ICC$ chart (+1048). He also leads the way for health traits; he's the MTR leader at 110 and improves daughter fertility (+3.2 DPR) and longevity (+8.0 PL). Adding to his outstanding credentials, he has a +3.2 Sire Conception Rate (SCR) and extremely low 5.5% SCE.
Carrying an impressive rank across indexes,
1HO11905 BLOWTORCH
stands at +2772 TPI® and +994 ICC$. He is +2.0 SCR and over +1500 Milk with a +136 CFP. This SILVER son rates well for MTR and will add type at +2.21 PTAT and +1.71 UDC.
Adding some color,
1HO11970 PUNK-RED joins the lineup as a high ICC$ (+704) Red and White sire. This Desire son adds diversity while also improving production at +1382 Milk. He is a type specialist at +1.95 PTAT and +1.91 UDC.
Continuing his impressive rank on the daughter-proven list,
1HO10396 CABRIOLET jumped to +898 LNM$ and +897 ICC$. With his +1023 milk and +102 Fat, this Robust son sires hard-working daughters that excel in production. He daughters should also experience fewer subclinical ketosis and metritis issues. Use CABRIOLET in heifer pens (4.6% SCE) to create daughters that breed back (+2.5 DPR) and last (+8.0 PL).
In total, GENEX added 17 sires to a lengthy list, highlighted by elite ICC$ rankings and pedigree diversity. For a full list of available sires, visit
http://genex.crinet.com
.
About GENEX
GENEX is the trusted provider of world-class animal genetics, progressive reproductive solutions, value-added products and innovative services. As a cooperative business, GENEX serves members and customers - dairy and beef cattle producers - across the United States. GENEX is part of Cooperative Resources International. For more information, please visit
http://genex.crinet.com
.