The information below has been supplied by dairy marketers and other industry organizations. It has not been edited, verified or endorsed by Hoard's Dairyman.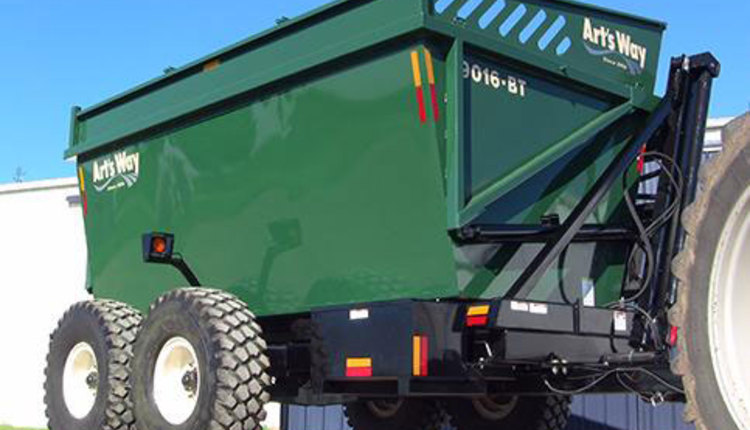 The 9016-BT wheel base is set so the tires can run through the field without damaging unlifted beets. The 15-inch wide tires, centered on 132 inches, straddle six rows of beets. The cart features a large, 20-ton capacity and can be easily set to dump to the left or right side. When combined, these features allow the 9016-BT to be pulled alongside the harvester when opening and dump back to the left when full. This allows the harvester to run at a much more continuous pace, greatly reducing the amount of lost time. The walking tandem is designed with 20 degrees of total rotation for smooth transport over uneven terrain. The cart is available with a scale system that includes a Wi-Fi antenna. The Wi-Fi antenna allows the harvester operator to instantly monitor the load from any smart device. This feature is very helpful when trying to maximize truck loads.
"The 9016-BT Cart was designed specifically for the beet harvest," said Neil Whitman, a sales engineer at Art's Way. "We worked directly with customers and dealers to get the most out of this design. Improving efficiency without sacrificing durability was our main goal."
Other features of the 9016-BT include a heavy duty, height adjustable, pivoting 2-inch hitch and three-position telescoping tongue. For safety, rear and side LED marker lights are standard.
In addition to sugar beets, the high dump cart can also be used for edible beans, peanuts, cotton, corn and soybeans.
The 9016-BT High Dump Cart is ruggedly built and easy to maintain for years of trouble-free use.
The new 9016-High Dump Cart by Art's Way is competitively priced to make it a worthwhile investment for your beet operation.
Contact Art's Way for more information about its new 9016-BT High Dump Cart via phone, email or web: 1-712-864-3131 * sales@artsway-mfg.com *
www.artsway-ag.com
.
Celebrating its 60th year of serving the agriculture industry,
Art's Way manufactures and distributes farm machinery niche products including animal feed processing equipment, hay and forage equipment, manure spreaders, sugar beet defoliators and harvesters, plows, reels for combines and swathers, land preparation and maintenance equipment.
Art's Way also designs and builds
Modular Calf Care Buildings and Hog Care Buildings and Calf Care Flex Stalls.
Headquartered in Armstrong, IA, Art's Way has five manufacturing facilities. They are located in Iowa, Ohio, and Ontario.