The information below has been supplied by dairy marketers and other industry organizations. It has not been edited, verified or endorsed by Hoard's Dairyman.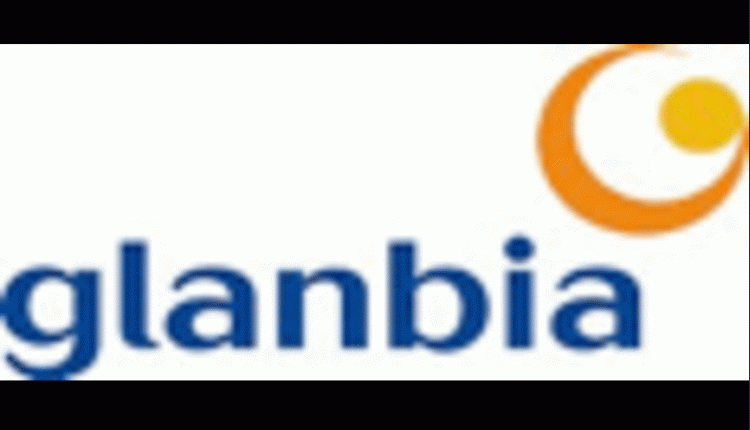 Rietkerk Dairy #2-- owned and operated by John & Rhonda Rietkerk and sons -- was awarded Glanbia's highest honor, the 2016 Quality Patron of the Year, at Glanbia's annual Christmas patron luncheon and awards ceremony.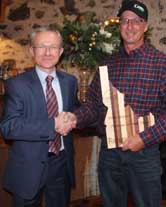 Left to right: Daragh Maccabee, SVP Procurement and Dairy Economics Rietkerk Dairy #2, John Rietkerk,
The Rietkerk dairy was awarded a Patron of the Year commemorative plaque and an all-expense paid trip for two to Ireland. This annual award rotates between small, medium and large dairies. In order to be recognized for this award, Glanbia's milk suppliers must meet strict quality standards over 12 months, paying close attention to all facets of dairy operations.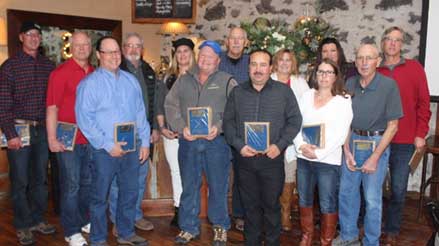 Left to right: John Rietkerk, Ted Baar, Steve Ballard, John Brubaker, Mickey De Kruyf, Louie Fitzgerald, Tom Kasper, Ascencion Escobedo, Monica De Kruyf, Maria Dinis, Carrie De Vries, Warren Lawton, Jesse Koopman.
"John, Rhonda and Sons have producing high quality for Glanbia for many years and we are proud to call them Glanbia Patrons" said Russ De Kruyf, Director of Milk Procurement. They are yearly Glanbia quality award winners and have produced the top quality milk in the state of Idaho and won the Idaho Milk Quality Award multiple times, in 2008, 2010 and 2013. You don't get good quality milk without paying attention to details and the Rietkerks are excellent operators and prove it every year.
Daragh Maccabee, SVP Procurement & Dairy Economics, commented that "Glanbia is proud of the relationship we enjoy with our patron milk suppliers, who provide us with the reliable source of quality Idaho milk that makes our business possible every day. Our annual Patron Christmas Banquet is one of the ways that like to show our appreciation for the relationship with our patrons and as part of that event we recognize and thank our patrons for the dedication to quality milk production."
The grand prize drawing for an additional all-expenses paid trip to Ireland was awarded to Nunes Brothers Dairy - George, Gorette, Joe and Fatima. The next planned trip will be in September, 2018.
Other dairies recognized with awards for quality milk production were:
Bliss: Crosswind Dairy- Donnie & Carrie De Vries
Buhl: De Kruyf Dairy-Robert & Monica De Kruyf; Knott-Run Dairy-John Brubaker
Castleford: Kowz-R-Us Dairy-Harry Hoogland
Delco: Idaho Jersey Girls Dairy #1-Bill Millenkamp
Gooding: Ballard Dairy-Steve & Stacie Ballard; Clarkson Dairy-John Clarkson; Johnson Dairy-Ben Johnson
Jerome: Aardema Dairy #7-Ron & Don Aardema; Baar Dairy-Ted Baar; Escobedo Dairy-Ascencion Escobedo; Millenkamp Milkers Dairy-Bill Millenkamp; Toledo Dairy-John Toledo; Valencia Dairy-Matais Valencia
Kimberly: No View Dairy-Lael & Justine Schoessler
Kuna: Kasper Land and Cattle Dairy-Tom Kasper
Richfield: Johnston Dairy-Bill Johnston; R & L Dairy-Robin Lezamiz; Robinson & Sorensen Dairy-Vic Robinson
Shoshone: 4-Bros Dairy #1, #3, #5-Andrew Fitzgerald
Terreton: Sunview Dairy #3-Ed De Groot
Wendell: Manuel Dinis Dairy #1 & #2—Manuel & Maria Dinis; Lawton Dairy-Warren Lawton; Rietkerk Dairy #1 & #2-John Rietkerk; West Point Farms-Edwin Southfield & Tony Vander Hulst