The information below has been supplied by dairy marketers and other industry organizations. It has not been edited, verified or endorsed by Hoard's Dairyman.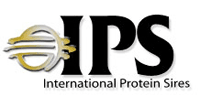 Following the April sire summaries, International Protein Sires activated five new bulls over +2700 GTPI. "We are pleased to announce the release of five new genomic tested young sires with superior ratings over +2700 GTPI. Several of our previously introduced sires made substantial genetic gains; however the new releases came in with still higher numbers. With each sire summary, the IPS lineup gains stature with genetics that assure farmers of long lasting, profitable dairy cows," said Ron Sersland, President and CEO of IPS.
Leading the IPS wave of high index releases is 566HO1281 DARK HORSE at +2735 GTPI. DARK HORSE has outstanding conformation; +3.17 type, +3.20 UDC and + 2.30 FLC. His milk yield and components are also superior; +1,515 lbs. milk, +69 lbs. fat (+.04%) and +54 lbs. protein (+.03%). DARK HORSE also excels at productive life with a +6.1 rating. This genetic leader is backed by a cow family known for exceptional production and type. His sire stack follows; Hang Time, Mogul, Superstition and Baxter.
566HO1269 BOOST is another triple plus type bull at +2719 GTPI. BOOST excels in all major type categories; +3.05 type, +3.09 UC and +2.44 FLC. The bull is also superior for milk at +1,188 lbs. along with +73 lbs. fat (+.11%) and 52 lbs. protein (+.06%). The dam of BOOST is a VG, two-year-old Meridian daughter. His grandam is an EX-94 Shottle daughter with 55,290 lbs. milk and 2,029 lbs. fat. BOOST traces back to Gypsy Grand who is the grandam of Goldwyn.
566HO1273 JARGON, at +2724 GTPI, is the milk leader among the new IPS releases at +2,364 lbs. JARDON is noteworthy for components with +82 lbs. fat and +75 lbs. protein. His type traits are also admirable; +2.28 type, +1.62 UDC and +1.47 FLC. And, his credible productive life at +5.2, gives JARDON a +794 NM$ rating. A son of Montrose Duke, JARGON is from a VG-87 daughter of Jacey, while his grandam is an EX-91 Planet daughter.
566HO1272 DONT PASS is a shining star at +2712 GTPI. This genetic pacesetter comes in at +860 NM$ with a sterling +8.2 productive life rating. DONT PASS is a complete package; milk yield at +1,210 lbs. and type at +1.99. He is also superior for components, having positive test for both fat and protein. DONT PASS is sired by Modesty. His dam is an Excellent daughter of the Superstition son, Day. And, his next dam is a VG-Gold Medal daughter of Planet.
Rounding out this elite group of prestigious releases is 566HO1278 MY TIME at +2712 GTPI. This breed leader shows an impressive balance of performance and conformation traits resulting in a superb +8.8 productive life rating. MY TIME is +1,392 lbs. milk and double plus for component test with a combined +123 lbs. His conformation traits are rated at +1.94 for type and +2.09 FLC. MY TIME is sired by Jedi from a Very Good, high component daughter of Numero Uno. His grandam is an Excellent daughter of Freddie while his third dam is an Excellent Shottle daughter.
These first-rate additions support the IPS philosophy to provide total performance genetics sought by dairy farmers throughout the world. IPS semen is available around the globe through company employees and independent distributors. Located in Rock Springs, Wisconsin, you may obtain additional information about IPS through their website, www.ipssires.com or by calling toll free: 1.800.542.7593