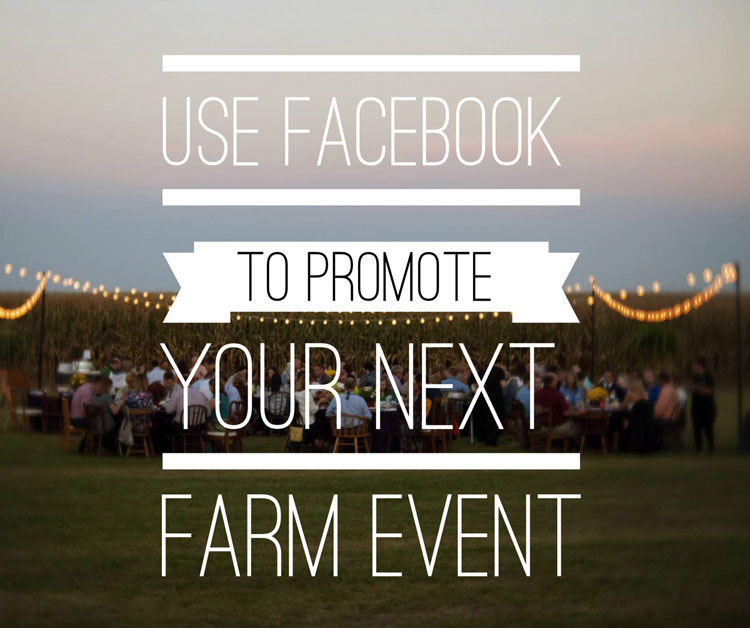 Warm weather, a break from school, and June Dairy Month bring a stir of events on the farm throughout the summer. Are you preparing to host a farm breakfast, fundraiser for your community, or farm tour for local families?
Check out these ideas for how you can use Facebook to get new faces out to your farm.
Add a Facebook event. Use Facebook events to add and share the details of your farm event. This will alert locals that there's an event coming up in their area.

Create a short promotion video. I know this might sound difficult, but video apps like VideoShow make it super easy. Capture four to five videos and photos from around your farm, combine them, and add text to the video using VideoShow to let people know when, what, and where.

Create an "online flyer." Along with videos, photos spread faster online. Apps like Canva and Phonto allow you to take a beautiful image of your farm and write text on top to share the details of your event. Be sure not to add too much text and cover the photo.

Share the information on your farm Facebook page using paid, targeted posts. Each time you post on your page, you have the option to "boost" a post. This means you're advertising the post to make sure that the people see it. Even committing $5 to $10 to target people in your area will help.

Tag local groups and community influencers. Tag school/community pages and community influencers to let them know about your farm tour. They might help to spread the news.

Find active community Facebook groups and share! Search your community on Facebook to see if there are active Facebook groups — mom groups, school groups, and more. Share your farm event information within the group.

Contact your Chamber of Commerce online. Most likely you have a local community group. See if they can post your event or add to their event section on Facebook.
Getting people to the farm is important, but don't stop your promotion after the event. Make sure that you ask people to "like" your farm Facebook page to follow along with your updates.


If you're interested in learning more or would like additional details about prep, promotion, or educational information for farm tours and events, contact your
local checkoff organization
or visit the
Dairy Hub Training Center
.
---
The authors work for Dairy Management Inc.