The information below has been supplied by dairy marketers and other industry organizations. It has not been edited, verified or endorsed by Hoard's Dairyman.

Lakeshore Technical College is partnering with the Wisconsin Agriculture Education Center (WAEC) to provide a new space for future students in LTC's Dairy Herd Management and Agribusiness and Technology programs.
The WAEC will be a state-of-the-art agricultural education center located in Manitowoc County, just north of LTC off of I-43. The Center will include a discovery center that features hands-on learning opportunities through many displays about agriculture, and an opportunity to tour Grotegut Dairy Farm, which focuses on sustainability and best farming practices while milking 2,400 cows three times a day. A highlight for visitors will be the chance to view the birth of calves from Grotegut Dairy Farm at the Wisconsin Agricultural Education Center's Land O'Lakes Birthing Barn.
LTC will have a building adjacent to the WAEC that will house Agribusiness and Dairy Herd Management classes.
"We're very excited to have this partnership between the WAEC and LTC," said Dean of Agriculture, Energy & Transportation, Pat Staszak. "Having our facility located there will provide new opportunities for our students to work with dairy cattle as well as develop professional relationships in the industry. In addition, this innovative partnership will offer LTC agriculture students a unique higher education experience."
The partnership also offers additional real-world learning experiences for LTC students pursuing other programs. Students from the Horticulture program have met with members of the WAEC building committee and US Fish and Wildlife about landscape design for the center and are planning to be involved at some level in the nature planting in conjunction with the exhibit theme of "Common Ground – Balancing Farming and the Environment" at the center.
"We are excited for this partnership and cannot wait to see LTC students, and visitors of every generation take their educational journey through WAEC," said Melissa Bender, WAEC Director of Education and Programming.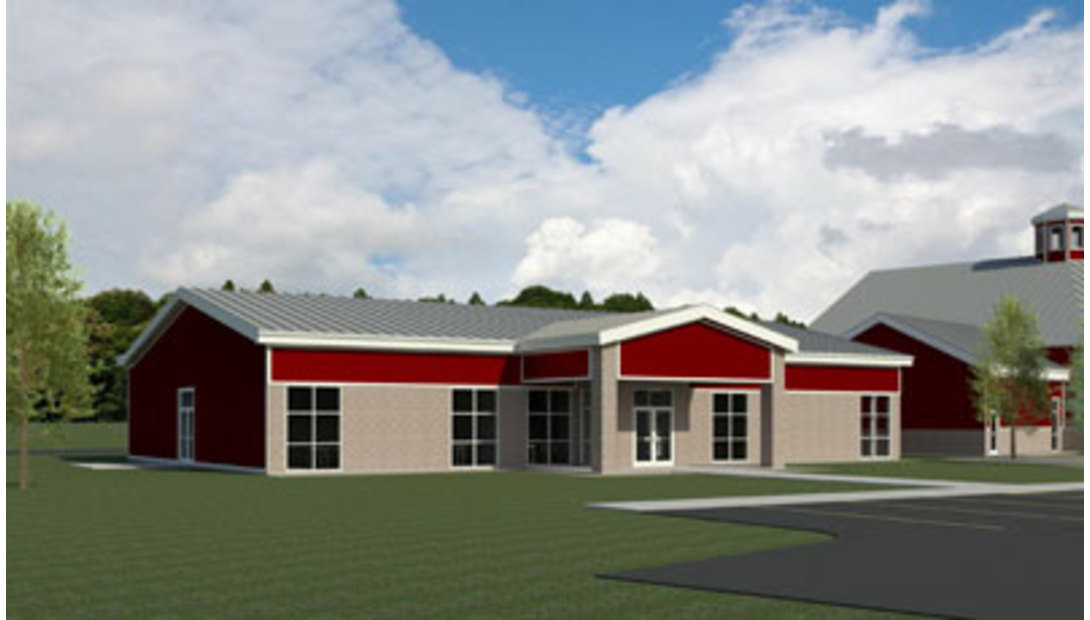 Rendering of the new LTC Agriculture building
Once built, the center will provide a hands-on agricultural educational opportunity for Wisconsin residents and visitors of all ages from around the world. The goal of the center is to provide visitors with the opportunity to connect to the industry by better understanding where their food comes from, and why agriculture is so important.
"This partnership will give our Agriculture programs the space it needs to be able to adapt the curriculum to meet the future needs in the industry," said LTC President, Mike Lanser. "This collaboration shows LTC's commitment not only to future students but to the ag community as well."
The WAEC is scheduled to open its doors in the Spring of 2018 and LTC classes are expected to begin in the new building starting with Spring 2018 classes.
About Lakeshore Technical College
Lakeshore Technical College is a leading provider of technical education offering more than 120 career programs including associate degrees, technical diplomas, technical certificates and apprenticeship programs. In addition, LTC offers distance learning, customized training to business and industry, and continuing education opportunities.
Serving a 211,900-resident population in east central Wisconsin, LTC operates a main campus in Cleveland and additional learning sites at LTC Manitowoc, LTC Sheboygan, LTC-Plymouth Science & Technology Center, and the Lakeshore Culinary Institute. The college also operates Community Education Centers at area high schools in Elkhart Lake, Cedar Grove-Belgium, Howards Grove, Kiel, Mishicot, Oostburg, Plymouth, Random Lake, Reedsville, and Two Rivers; and 27 distance learning sites. LTC's mission is to enrich lives and strengthen the economy by preparing a workforce that is skilled, diverse and flexible. On average, 87% of LTC graduates work in the LTC District which includes Manitowoc and Sheboygan Counties, and parts of Calumet and Ozaukee Counties. Visit LTC at: www.gotoltc.edu.