The information below has been supplied by dairy marketers and other industry organizations. It has not been edited, verified or endorsed by Hoard's Dairyman.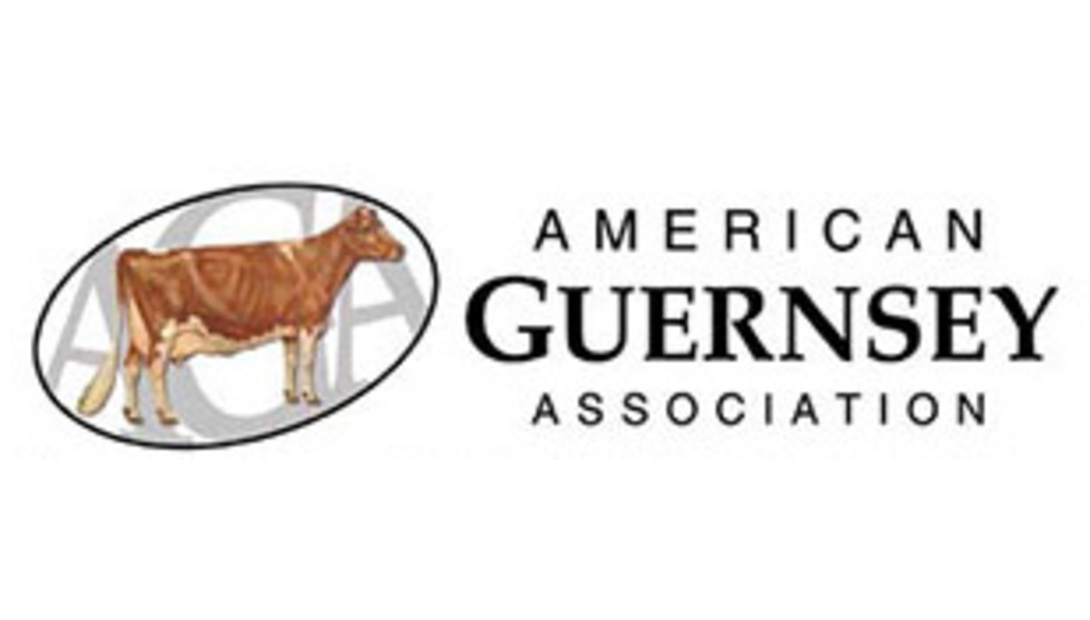 Hundreds of National Convention attendees braved the pouring rain to attend the 2017 National Guernsey Convention Sale at the Saratoga County Fairgrounds, capping off a phenomenal week-long event. Embryos, choices and a tremendous lineup of live lots sold to 19 states across the United States, from Maine to California. The average on 56 live lots and choices was $3,250.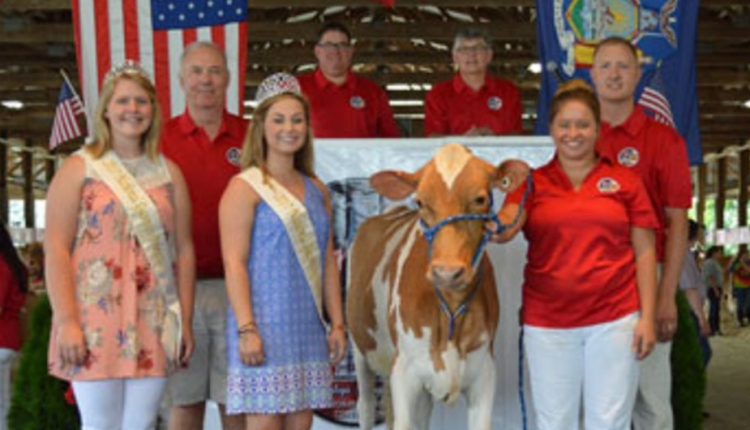 The high seller of the National Convention Sale was Coulee Crest Navajo Lark‐ET.
The high seller of the day was the #4 CPI heifer in the breed, Coulee Crest Navajo Lark-ET, selling to new Guernsey owner Steve Linkowski of Avella, Pennsylvania for $8,700. Lark has a GCPI of +95 and is a Navajo out of Coulee Crest Copper Leenah-ET VG-87, the #3 CPI cow in the breed. Lark also boasts a +328NM$, +2.8PL, +50F and +22P. The next six dams are all Excellent and well-known for making big-time milk records, ranking high in index and producing All- American daughters. Lark was consigned by Coulee Crest LLC of Cashton, Wisconsin.
The second-high selling consignment was a pick of seven American Pie daughters out of Mar Ral YB Margo Two-ET EX-90 consigned by Ralph Turley and Verl Weaver of Orient, Ohio and Goshen, Indiana. The calves, born in June 2017, are potential eighth generation Excellent and will all be genomic tested in order to assist buyers Lang, Overholt and Basse of Big Prairie, Ohio, in making the best choice. Margo Two is a Yogibear with records to 26,860M 1,701F 875P and is a daughter of Mar Ral Royal Martha-ET EX-94, The All-American 5-Year-Old in 2006 and full sister to the popular bull Mar Ral Royal Mentor. The first ever offering at a public sale from this cow family sold for $8,100.
Two fancy show heifers also commanded prices over $7,000. The first, Poppydale Latimer Spice-ET, is a well-grown and correct December 2016 daughter of Craig Moor Fayette Selma EX-93, Honorable Mention Junior All-American in 2010. Spice was purchased by Eric Craig of North Bangor, New York for $7,600 and consigned by Michael Trombly of Chateaugay, New York. Rocky Hill Lone Star Skylar, an ultra-stylish April 2016 heifer, was purchased by Daniel St Pierre of Berwick, Maine for $7,200. The Lone Star is out of a VG-88 Nominated All-American Garrett, then an EX-92 Deemand and was consigned by Rocky Hill Farm of Hughesville, Pennsylvania.
Five embryo lots sold for an average of $556 per embryo. The high-selling embryo package was consigned by Austin and Landen Knapp of Epworth, Iowa, for $675 per embryo. The package consisted of three IVF, reverse-sorted embryos sired by either Ladys Man or a mutually agreeable sire and out of Knapps Ace Tamera EX-93, the most prolific brood cow in the breed. They were purchased by Richard Giddings of Brandon, Vermont.
Auctioneering for the sale was Stanley Chupp, who brought along his team of Dale and Tyler Chupp to serve as ringmen and Maria and Cindy Chupp to clerk. Also serving as a ringman was Dan Ripley. Blaine Crosser read pedigrees while Seth Johnson and Brian Schnebly took phone bids. Dick Whalen served as the Sale Chairman with assistance from Eric Craig and Wayne Foote. Cattle preparation was handled by Chris Reichard, Joan Seidel, Mike Hickman, Anthony Liddle and crew. Cara Trotter and Robin Alden represented GMS, and the beautiful sale ring was prepared by Judy and Donna Whalen. Live viewing and bidding was available on Cowbuyer.com, and many consignments sold online.
Additional lots selling for over $4,400:
Millborne HP Nico Amber (01/17) $5,200
S: Lang Haven Prada Nico
C: P Morey Miller & Hillpoint Partners, WI
B: Rileigh Mumbulo, NY
Indian Acres Lightning Apple Pie (07/16) $4,900
S: Marodore T Les Lightning-ET
C: Ashley Elise Sears, MA
B: Robin Dalton, KY
Coulee Crest Regis Juliet-ETV (03/17) $4,900
S: Marodore Enhancer Regis-ET
C: Coulee Crest LLC, WI
B: Donna Whalen, NY
Trotacre BS Hipster-ET (10/13) $4,700
S: Jens Gold
C: Blue Spruce-ET
B: Therl Hensley, INC: Cara & Jamie Trotter, PA
Sniders HP GG Lone Star Ayisha-ETV (06/16) $4,600
S: Springhill J Lone Star-ET
C: Hillpoint + Snider Homestead + Dan Basse, WI
B: John P & Marjorie A Kuszlyk, NY
Marodore HP Pie Pollyanna-ETV (09/16) $4,500
S: Indian Acres American Pie
C: Marodore & Hillpoint Partners, WI
B: Linda Madsen, CA
Rozelyn Springhill Zigzag-ETV (10/16) $4,500
S: Jens Gold Aaron Copper-ET
C: Springhill, OH
B: Maddie Zweegman, WA
Maplehurst Pies Lyric (01/15) $4,450
S: Indian Acres Pies-ET
C: Rob Forster, ON, CAN
B: David Blake, PA
The American Guernsey Association is based in Columbus, Ohio and is dedicated to the advancement and promotion of Guernsey dairy cows and products.