The information below has been supplied by dairy marketers and other industry organizations. It has not been edited, verified or endorsed by Hoard's Dairyman.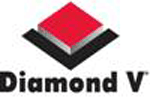 Diamond V® announces the European Union trademark registration of TMR Audit®, which now is a protected trademark in all 28 member states of the EU.
"The 'total mixed ration', or TMR, is a critical part of modern dairy and beef production," says Chris Van Anne, director of Diamond V's Europe Business Unit. "The dairy producer wants the TMR to supply every cow's nutritional needs in a consistent manner, day after day. However, as every dairy producer knows, this is not an easy task."
The TMR Audit is Diamond V's proven system to monitor and improve the cattle feeding process as well as the consistency and homogeneity of the ration consumed by each animal.
"The TMR Audit addresses feedstuffs storage, ingredient preparation and proportioning, TMR mixing, ration presentation, and utilization," adds Van Anne. "Parts of the system also can be applied to supplemental feeding in grazing operations in order to support optimal rumen health, feed utilization, and performance."
Diamond V dairy technical specialist Dr. Tom Oelberg developed the TMR Audit in 2008. Dr. Oelberg and Diamond V colleague Dr. Bill Stone subsequently published peer-review articles and other scientific and technical materials to advise researchers, practicing nutritionists, and veterinarians worldwide on TMR guidelines, processes, and protocols.
"TMR Audits," Van Anne says, "currently benefit the performance and profitability of thousands of dairy operations in North America and Europe as well as other regions around the world."
The TMR Audit gained registered trademark status in the USA in 2014. To date, Diamond V experts have conducted nearly 5,000 TMR Audits on dairy farms around the world, while training thousands of producers and their advisors to improve feeding operations.
"The Diamond V TMR Audit identifies and helps eliminate possible sources of error and inefficiency in the feeding operation," says Peter Zieger, DVM, technical sales and support manager with Diamond V in Germany, Hungary, Austria, and Switzerland. "This process reveals opportunities for the producer to improve dairy performance. On average, a TMR Audit results in a production increase of more than 1 liter of milk per cow per day and 0.1-0.2% higher milk fat content. Incorporating a Diamond V product in the TMR further increases milk production in addition to improving feed efficiency and helping to maintain optimal animal health."
The new EU trademark status for the TMR Audit supports Diamond V consulting work with nutritionists, veterinarians, and leading producers throughout Europe. The TMR Audit works in concert with the Diamond V Life Stage Solutions™ program, including NutriTek®, SmartCare®, and Original Line products like XPC™LS, to promote immune function and digestive health while improving dairy performance and overall profitability.
Based in Cedar Rapids, Iowa, USA,
Diamond V
is a family-owned, professionally managed company that applies world-class research, expertise in many species, and proprietary microbial fermentation technologies to create profitable solutions for animal producers around the world. The company's scientific record includes numerous discoveries and more than 125 peer-review published studies. Diamond V operates research, innovation, and manufacturing facilities in the USA as well as research facilities and business offices in other strategic locations. Diamond V's natural, fermentation-based, immune support products and technical expertise currently promote animal health, animal performance, and food safety in more than 60 countries. More than 70 years of science, innovation, technology, and quality have earned Diamond V the reputation of The Trusted Experts in Nutrition and Health®.
For more information, visit
www.diamondv.com
.