This past week I had the "pleasure" of traveling to the big city. Now, I don't know if you know Portland, Oregon, but it seems no matter what time of day you try to travel through it, the traffic is terrible.
While I was sitting in my car in a nice little gridlock and wondering how the heck so many people could need to go the same direction in the middle of the day, I was truly astounded that some people make a commute like that every day. I don't know about you, but I would definitely have to have something to occupy the hours that kept me in my car for a commute like that.
It instantly had me appreciating the commute I make in my barn boots.
I think most of us are lucky enough to live on the farm that makes walking to work a possibility. Or at least a more relaxing country drive compared to city craziness. There is just something special about that time as you slip on your boots and head to the barn.
In the morning, I always appreciate how the stars shine so brightly in a clear sky. There's the anticipation of what you'll find at the barn for that morning. We always hope for good news and happy, content cows that didn't get into mischief during the night. Or perhaps, a heifer calf from the cow waiting next to calve might have joined the world while we slept.
There's also the opposite that some mornings you'll dread what you might find. In the sick cow you left late the night before after all efforts had been exhausted, with a prayer and hope that she'll still be there in the early morning. And the reality is that some mornings just bring a hard day of breakdowns and a never-ending string of nothing going right. But the possibility that exists in that walk to the barn is what keeps us pulling those boots on.
I also appreciate the commute home. Knowing you've put in a good day's work; that you've left all at the barn contented and as well as you possibly can. It's a special time to rejoice in the accomplishments of the day as you make your way home.
I don't envy anyone who doesn't get to enjoy a barn boot commute. So the next time you pull your boots on, and head out the door, remember to appreciate this unique aspect of the dairy farm lifestyle.
---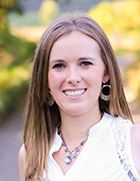 Darleen Sichley
The author is a third-generation dairy farmer from Oregon where she farms in partnership with her husband and parents. As a mother of two young boys who round out the family run operation as micro managers, Darleen blogs about the three generations of her family working together at Guernsey Dairy Mama. Abiqua Acres Mann's Guernsey Dairy is currently home to 90 registered Guernseys and is in the process of transitioning to a robotic milking system.