The information below has been supplied by dairy marketers and other industry organizations. It has not been edited, verified or endorsed by Hoard's Dairyman.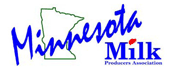 The Minnesota Milk Producers Association named the Groetsch family of Groetsch Dairy, Inc. in Albany, Minn. its 2017 Producer of the Year. The honor was bestowed during the Minnesota Milk Dairy Conference and Expo in Red Wing Nov. 28. They were selected on the basis of their involvement and commitment to the future of the dairy industry.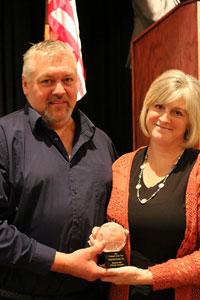 Steve and Lisa Groetsch began dairy farming together after they were married in 1989. Starting with 40 cows in a stall barn, they always had an eye to the future and making improvements to the dairy to benefit their farm, their cows and their family.
"Investing in our facilities and adding new technologies makes Steve and I more efficient, helps keep our cows more comfortable and keeps the farm up-to-date in case one of the children chooses to come back to the farm in the future," says Lisa. In 2011, Steve and Lisa invested in robotic milking machines which allows cows to eat, lie down, drink and get milked whenever they want. "My definition of modern dairy farming is using technology to simplify our manual tasks," Lisa adds.
The couple's three children – Jennifer, Matthew and Katelyn – grew up working closely with their parents on the farm. "Our dairy wouldn't be our dairy without our children," said Lisa. "Doing what we do every day is even more fun when they are all home and we are all working together."
The Groetsch family is also active in the community and welcomes tours of their farm. They hosted the Stearns County Breakfast on the Farm in June 2013, opening their farm to nearly 3,000 visitors, and regularly host tours for groups of all ages from kindergarten classes to nursing home residents.
As Producers of the Year, the family receives a $1,000 scholarship toward educational programming, a trip to the conference where the award was presented and a framed and matted art print.

ABOUT THE MINNESOTA MILK PRODUCERS ASSOCIATION
Minnesota Milk Producers Association is a membership organization representing grassroots dairy farmers through policy work, education and membership development. Our work is vital to the future of Minnesota's dairy industry and is directed by a board of dairy farmers elected by their peers. For more information, visit www.mnmilk.org.