The information below has been supplied by dairy marketers and other industry organizations. It has not been edited, verified or endorsed by Hoard's Dairyman.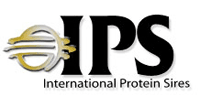 International Protein Sires (IPS) made great advancements resulting from the December sire summaries. "We are pleased to release the current information that bolstered our daughter proven lineup and we are also excited to announce that we have added several superior genomic young sires. With each sire summary, we are gratified with the strengthening of our lineup; sire performance that equates to durable, long lasting cattle," Ron Sersland, President and CEO of IPS remarked.
566HO1293 SEASAW is currently ranked #48 among genomic proved sires at +2827 GTPI. SEASAW excels in numerous categories; +1,734 milk lbs., +76 lbs. fat (+.04%), +61 lbs. protein (+.03%), +9.9 PL and +959 NM$. In addition, SEASAW's type credentials are noteworthy; +1.90 type, +2.20 UDC and +1.49 FLC. This new pacesetter is a Bandares son. His dam is a Supershot daughter. And, the third dam is an EX Mogul daughter with an EX mammary system.
566HO1197 JUMP START is a leader among the daughter proved IPS sires at +2484 GTPI. JUMP START is a well-balanced sire with +2132 lbs. milk along with +142 lbs. combined fat and protein. In addition, his type proof is +1.53 along with +5.5 a productive life rating. A proven leader from a deep cow family, JUMP START is one of the highest McCutchen sons among the Top 100 GTPI daughter proven bulls.
566HO1290 TON OF FUN at +2725 GTPI, is a performance and type specialist. TON OF FUN is the only bull of the breed greater than +2,000 lbs. milk and over +3.00 for type. His performance credentials include; +2,081 lbs. milk, +76 lbs. fat (+.00%) and +64 lbs. protein (+.01%). Rounding out this total package are his superior type traits; +3.36 type, +2.52 UC and +2.27 FLC. This Royal son is from a VG-87, two-year-old daughter of Montross. The next dam is also VG-87 while the third dam is EX-91. And, his ancestry is packed with super milk cows that yield high components.
566HO1291 REASONS is the #3 DWP$ bull of the breed at +1244$. At +2705 GTPI, REASONS reigns supreme for components. He is +81 lbs. (+.17%) fat, +42 lbs. (+.05%) protein, +972 lbs. milk. At +9.5 productive life, REASONS is also +906 NM$. His type traits are significant across the board; +1.97 type, +1.89 UC and +1.66 FLC. A Solaris son, REASONS descends from a VG Greenday daughter with an EX udder. His next two dams are EX and the source of REASON's components.
566HO1285 CHILE PP is ranked #7 homozygous polled bull of the breed; a great attribute to the IPS polled lineup. At +2429 GTPI, CHILE is +1,206 lbs. milk and +5.9 for productive life and is A2A2. His type credentials provide an enviable dehorning package; +2.10 type and +2.43 udder composite. CHILE is a Tobin son from a young and VG Powerball daughter. His grandam and third dam are also VG with enviable performance.
Another notable addition is 566HO1283 ON POINT with breed leading type traits. ON POINT is +3.84 type and +2.66 udder composite. This Solomon son descends from three generations of EX dams all with great production records.
These recent achievements elevate the prestige of the IPS Holstein sire lineup. And, strengthen the IPS philosophy to provide balanced genetics for superior performance and conformation; requirements of dairy farmers around the world. IPS semen is available worldwide through company employees and independent distributors. Located in Rock Springs, Wisconsin, you may obtain additional information about IPS through their website, www.ipssires.com or by calling toll free: 1.800.542.7593