The information below has been supplied by dairy marketers and other industry organizations. It has not been edited, verified or endorsed by Hoard's Dairyman.
In January, the United Dairy Industry of Michigan (UDIM) debuted Acres to Athletes — a short "day in the life" video featuring two Michigan natives and Michigan State University (MSU) students. In the video, national figure skater and Milk Means More athlete ambassador Hannah Miller from Williamston spends a day with dairy farmer Maddy Meyer from Ionia.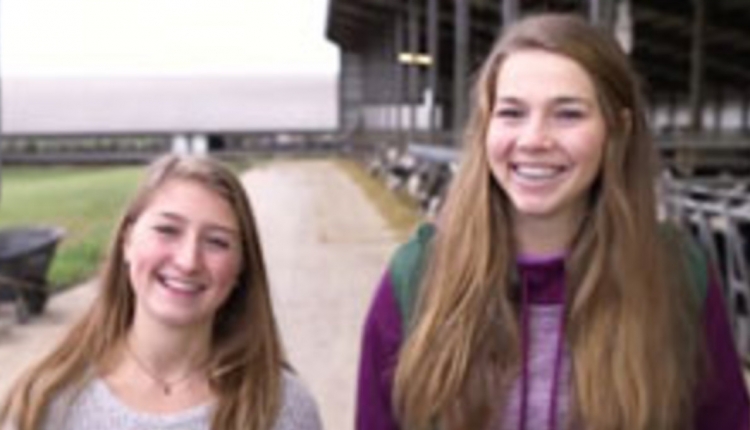 Hannah Miller (L) Maddy Meyer (R)
Hannah learns how to care for calves, milk a cow and the precision that goes into creating a balanced diet for dairy cows. Following their time on the farm, Maddy and Hannah head to the ice rink, where Maddy catches a glimpse of what it takes to be a professional figure skater.
At the end of the day, Maddy and Hannah recognize what they each do, figure skating and dairy farming, is not just a career, but a passion that has been passed down through their respective families for generations.
To introduce the video, Maddy did an Instagram takeover of the Milk Means More Instagram account on January 25. During the takeover, she shared behind-the-scenes photos and videos from the day Acres to Athletes was filmed. The Instagram takeover garnered over 4,000 impressions.
A short introduction clip of Acres to Athletes was shared on the Milk Means More Facebook account, reaching over 23,000 people, was viewed over 9,200 times and shared 99 times. To view the entire video, visit https://www.youtube.com.

About the United Dairy Industry of Michigan
The United Dairy Industry of Michigan (UDIM) is dedicated to serving Michigan's hard working dairy farm families and promoting Michigan's locally produced dairy products. UDIM is the umbrella organization for the American Dairy Association and Dairy Council of Michigan. These non-profit organizations provide dairy product promotion and nutrition education services on behalf of their funding members.